Halfback takes responsibility for team's dubious performance against Cronulla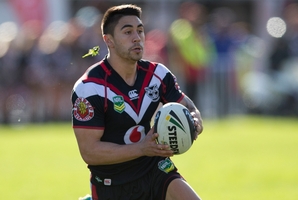 The mark of the best players is not how well they play, it's how often they do it and it's something Warriors halfback Shaun Johnson is coming to grips with.
The 22-year-old playmaker was overshadowed by Cronulla five-eighth Todd Carney last weekend as he was beset by errors and an inferior kicking game. It was one of the key reasons why the Sharks left Mt Smart Stadium as 18-14 winners.
In previous weeks, however, Johnson has been at the fore and it was little coincidence that the Warriors won seven out of eight.
In the month of July alone he had four try assists, three tackle breaks, three offloads, two linebreaks, four linebreak assists, two tries and 34 points.
"Over the past couple of months I have been pretty consistent," he said.
"I was just disappointed I didn't execute my role in the side [against Cronulla]. I made it hard on myself. I just wasn't concentrating.
"I had a few dropped balls and a few little errors. That just tells me I didn't prepare as well as what I had been. Maybe I got a bit comfortable, I'm not too sure. I was certainly disappointed."
There have been suggestions the Warriors became complacent ahead of the Sharks game and started to believe the hype around them. Their form had caught the attention of Australian media and Johnson made an appearance on primetime Australian television.
"I can't really use that excuse," he said. "I have been exposed to the media a fair bit now and I should be used to it by now. It's just part of the job. It's something I like doing. I just have to find a way to put that to the side and switch on."
As off-colour as Johnson might have been, he almost won the game for the Warriors with a late break before he passed to a non-existent teammate.
"It's part of our learning process and Shaun's learning process," coach Matt Elliott said. "We underestimated him at a key part of the game when we needed a couple of people to show up and then he would have got the opportunity to kick a winning goal.
"It's the old adage about what the team does in front of Shaun and Thomas Leuluai which helps with their effectiveness. In the past few weeks Shaun has had a team going forward in front of him, last week that wasn't the case. That's no excuse for some of the fundamental errors he made but he also created the opportunity for us to win the game."
Manly are a relentless side who play consistently well and they appear to be timing their run well. They go into Sunday's game as one of the form teams of the competition, having won their last five, and have also won eight of the last 10 against the Warriors.
They have been in the spotlight this week with Asada due to interview a handful of players and coaching staff but have enough big-game experience to cast distractions aside. That's something Johnson and the Warriors are still learning.
- APNZ