Former teen star and mum of two returns for crack at netball glory with Silver Ferns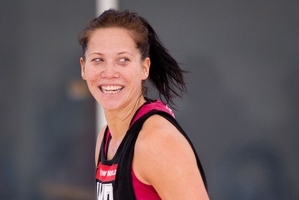 Tipped for stardom as a teenager, Otaki's Katarina Cooper all but disappeared from the netballing landscape eight years ago. Now, aged 27, the versatile midcourter is on the cusp of a shock return to the fray, with the gutsy mother-of-two expected to be named in the wider Silver Ferns squad today.
It would be tempting to say it is a meteoric rise for Cooper. After all, she has made only fleeting appearances at ANZ Championship level. But that would do a disservice to the hard work and toil she has put in to reach this point.
It is almost eight years to the day the New Zealand under-21 netball side - featuring household names like Casey Williams (now Kopua), Laura Langman and Maria Tutaia - won the World Youth Cup in Miami.
The class of 2005 was considered a bumper crop for New Zealand netball, with all but three of the 12-strong team at the Miami tournament going on to represent the Silver Ferns.
Cooper was supposed to be a key member of that team. Instead, while her teammates were storming their way to the title, Cooper was at home in Otaki preparing to give birth to her first child at 19.
"It just dawned on me this week that it has been eight years since I've been in this environment. My son [Hennessy] turned 8 [on Tuesday] so that's what got me thinking about it and reminiscing with the girls," says Cooper.
That was really the last we heard of Cooper until she briefly cropped up again in the Central Pulse side last season. She would turn up to NPC tournaments every year and star for the Western team, but transtasman league contracts were not forthcoming as at provincial level Cooper generally played in the defensive circle. At 1.80m she was not considered tall enough to play defender at the top level, where she would be regularly encountering 1.90m-plus giants.
But with a keen eye for talent honed by decades of top-level coaching, Robyn Broughton took a punt on the gifted player, selecting Cooper as a midcourter for last year's transtasman league. From the outset her return generated plenty of buzz, with Cooper a stand-out for the Pulse in the league's preseason tournament. With an innate ability to read the game and natural flair, Cooper quickly established her place in the starting line-up and had once again caught the eye of the national selectors.
But when her knee crumpled under her in the Pulse's round 13 clash against the Melbourne Vixens last year, so too did any hope that she might push on for higher honours. With no guarantees she could get back to top speed for this year's transtasman league after a knee reconstruction in the off-season, Cooper didn't pick up an ANZ contract this year. It seemed her fairytale comeback was over.
"It was pretty gutting," Cooper says. "I felt like I was only just getting back into things and then that happened... yeah, I was depressed and all that. But I didn't want that to be it; I knew I still had more to give."
Her big break came disguised as a minor opportunity, when she was asked to play for Central in the newly established national under-23 tournament, designed to build depth in the tier below ANZ Championship level. With each team allowed to carry two "overage" players, Cooper was called into the line-up after another player was forced to withdraw.
It wasn't long before she was once again a hot conversation topic among the selectors, with the panel agreeing her form at the tournament warranted an invitation to this week's trials.
"I thought it would be a good chance to see where I'm at and build back my fitness and then on the last day I got a call from Wai [Taumaunu, Silver Ferns coach] inviting me to the trials. I was thinking, 'Is she for real'?" says Cooper with a laugh. "But then I just got straight into it, I went and saw the physio and trainer to make sure my body was right, and made sure I was on top of things with my nutrition and hydration and I just worked hard."
Cooper says she came into this week's trials with the mindset that she had nothing to lose. She admits the intensity and workload has been a bit of a wake-up call.
Despite suffering the effects of fatigue after a long week, Cooper impressed at yesterday's final trial, getting court time at centre and wing defence. If she misses out on a place in the 17-strong squad, she will almost certainly be included in the national accelerant squad.
Cooper is happy with the path she has chosen.
"It's good to feel like I'm doing something for myself now. I've always put everything aside for my children - not that I regret it, I definitely don't regret it - but now it's a chance for me to work on something I want," she says. "I'm here and I want to prove to myself that I can still do it. I hope I'm a role model to the girls who have kids young and I can prove that it shouldn't stop you from achieving your dreams."