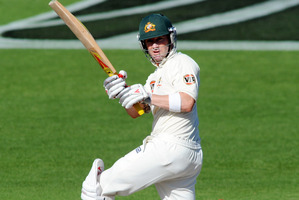 England have demanded an apology for a story claiming players in the Ashes series have been attempting to 'cheat' the HotSpot technology.
The report suggested players were using silicone-based tape on the edges of their bats to avoid detection by the decision review system's infra-red camera.
Batsman Kevin Pietersen, who was linked to the report that aired on Nine news, says he's furious at the "hurtful lies''.
How stupid would I be to try & hide a nick when it could save me on an LBW appeal, like in 1st innings where hotspot showed I nicked it..

— Kevin Pietersen (@KP24) August 7, 2013
The England and Wales Cricket Board is understood to be demanding an "apology and an explanation'' from the Nine Network.
England fast bowler and Durham local, Graham Onions, is hoping to force his way into the side for the fourth Test at Chester-le-Street.
Onions slammed the allegations.
"The accusation from my point of view is crazy. It just doesn't sound right and I know it's not right,'' he said.
"None of the England lads would use anything on their bats. Obviously people use tape to heal cracks or if they have a favourite bat to try to keep their favourite bat for as long as possible, but nothing that would potentially cover up any nicks.
"The accusation is ridiculous really.''
Onions says he feels sorry for Pietersen that his name has been dragged into the allegations.
Pietersen was controversially given out caught behind in the second innings, despite a nick not showing up on HotSpot when he reviewed.
The Nine report implied Pietersen may have cheated, something which the No.4 vehemently denied in a series of Twitter outbursts.
"I think it's obviously a little bit unfair,'' said Onions of the position Pietersen was put in by the story.
"With what's happened in the last Test match, it involved him. The situation in which we find ourselves is that his name has been named.
"I've not spoken to him but he's obviously going to be a little bit hurt by that. He's a very fair guy and that accusation is wrong.''
The laws of cricket state that tape and other non solid materials can be used to protect, strengthen and repair the bat - including the edges.
That could include using liquids and tapes.
Oil was once used extensively to protect bats, before that method was replaced by fiberglass sheets, which Australian captain Michael Clarke says he's used since he was 12.
Clarke says putting a cover on his bat started out as a money-saving method and laughed off suggestions players were using tape as a way of cheating.
"I used fiberglass facing on my bats since I got my first bat from Slazenger when I was 12,'' he said.
"I used a fiberglass face on the bat because we couldn't afford two or three or five or 10 cricket bats. My dad made me put a face on the bat to protect the bat and make it last longer.
"That was after the oil theory stopped.
"I used to put a cover from the stuff (contact) my mum used to cover my schoolbooks in. I used that contact to cover my cricket bats.''
- AAP