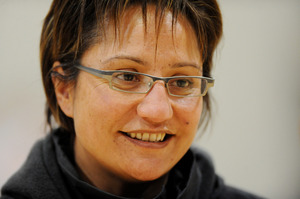 Tough decisions will already have been made before today's final Silver Ferns selection match in Auckland.
The national selectors last night made their first cull, with several members of the 24-strong group invited to try out told they would not be required for today's Possibles v Probables match.
Remaining players have one last opportunity to impress the selectors in the trial match before Waimarama Taumaunu names her final squad of up to 18 players tomorrow.
Even with the late withdrawal of former Fern Liana Leota, who ruled herself out of the international season for family reasons, the most difficult area to whittle down is proving to be the midcourt, with 11 players chasing at best six spots in the wider squad.
The selectors invited four midcourters - Joline Henry, Katarina Cooper, Courtney Tairi and Phillipa Finch - to try out alongside incumbent Silver Ferns squad members Laura Langman, Kayla Cullen, Camilla Lees, Grace Rasmussen and Anna Thompson, while accelerant squad members Shannon Francois and Magic midcourter Elias Shadrock are also taking part in trials this week.
Taumaunu said she expected some very robust conversations with the selection panel as they seek the right mix to go through to next year's Commonwealth Games.
After a rusty start to trials, the coach said she was much happier with the performances on day two. The players have a heavy workload, playing 10 quarters each day across two sessions, but Taumaunu is pleased with the way the combinations have developed despite the players being tired.
"Our first one was a bit messy, yesterday we were pretty inconsistent so I was much happier with this morning's run. There were some combinations that took a bit of time to settle, but much less time than yesterday."
One of the surprises has been young Tactix defender Jane Watson, 23, who impressed at goal defence yesterday despite an elbow injury. Traditionally a goal keep, she had her arm heavily strapped after hyper-extending her elbow in a fall on Tuesday. But it didn't slow her down. She combined well with Katrina Grant in the defensive circle to come up with some brilliant turnover ball.
Taumaunu said Watson was originally invited into trials with an eye to the future, but her form might force selectors into a rethink.
"I'm really pleased with the progress she's made at goal defence, because it's not a position she has played a lot of," said Taumaunu. "She was probably more on the accelerant list but she has certainly made us think. It's not over yet."
Traditionally an area of strength, defence is unusually light in the Silver Ferns this season, with Anna Harrison out of the international season having her first baby.
There's a case for Watson's inclusion with another stand-out performance today, but she insists she's not thinking about selection. She said the opportunity to play with established Ferns had made this week an extremely valuable experience.
"Getting to work with them and learn from them is awesome."