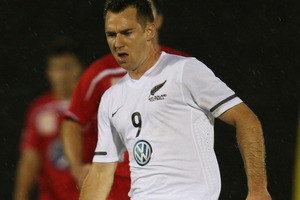 For All Whites striker Shane Smeltz, it wasn't quite the lasting impression he was hoping to take from the Olympics.
The 31-year-old picked up what he thought was a minor hip strain in one of the first training sessions ahead of the London Games and has been battling through ever since.
Three weeks ago he took the step to go under the knife in an attempt to resolve it finally but it doesn't give him much time to regain full fitness ahead of the two biggest games the All Whites play every four years.
On November 15 and 20 New Zealand will take on the fourth-placed team from Central and North America for a place at next year's World Cup. Even though the All Whites have some good options up front, with the likes of Chris Wood, Chris Killen, Jeremy Brockie, Marco Rojas and Kosta Barbarouses, they won't want to be without this country's top striker.
He is second on the all-time scoring list with 23 - five short of Vaughan Coveny - is a former A-League Player of the Year and two-time golden boot winner and is the A-League's leading goalscorer with 73 goals from 122 games.
He had hoped a full off-season would help rectify the problem but found himself struggling again when he returned to pre-season training with his Perth Glory side.
A visit to a different specialist - he had had a number of scans and ultrasounds which showed little - quickly established the problem as a labral tear on the hip and he had surgery almost straight away. Smeltz should be back running in seven weeks and is targeting a return to the Perth side at the end of October.
"Two weeks before the operation I said, `this is a big season, I will get through this and if I need to have some jabs I will','' he said. "Then when I really thought about it, I want to be feeling good and playing well. You do nobody any justice by going out and playing injured every week. The timing of it, I thought I could make it work.
"If I battled through, and it would have been a battle, the surgeon said I would probably break down again. Say all goes well and we get to the World Cup, when would I do it? It becomes more difficult. You are just carrying on forever and those sorts of things can limit your future. It was quite an easy decision for me.
"I sat with the calendar and marked out the date and tried to work backwards from that. In my mind, I will be involved in those dates, for sure. It's just how fit and ready I will be, but you don't forget how to play football. When the body is feeling good, it comes really quickly for me.''
It's been a difficult 18 months for Smeltz, who needed 53 stitches to a gruesome facial injury sustained in the 2012 A-League grand final against Brisbane and more stitches after being kicked in the head in the 2-1 World Cup qualifying win over New Caledonia in March.
"Hopefully that's the end of it,'' he said. ``They say it comes in threes and that's the third - two big kicks to the head and an op. That should do it.''
- APNZ