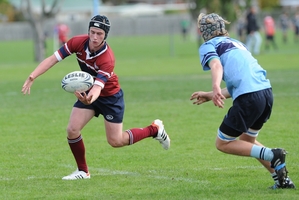 A schoolboy rugby player who suffered a serious head injury during a first XV match is due to be brought out of his induced coma today.
Halfback Matt Martin collapsed on the field while playing for his Dunedin school, Kavanagh College, on Saturday.
The 17-year-old hit his head on the ground after a legitimate tackle and has been in an induced coma at Dunedin Hospital.
He's expected to be brought out of his coma after bleeding on his brain stopped yesterday.
"There's been no bad news, everything is heading in the right direction," said Kavanagh's acting principal Steve Read.
"All the signs at this early stage are positive. They're bringing him out of the induced coma today, which is good news."
Friends and teammates have been offered counselling by the school, while the Parent and Family Association has been delivering food to the family.
The first XV have been "remarkably resilient" and will be playing in Matt's honour this weekend, Mr Read said.
"The school, and the rest of the community, is very concerned for the family.
"But as time goes by, and more is revealed and he comes out of the coma and they know what the prognosis is, more good news will hopefully follow.
"He's a great kid, and it certainly was a shock to all when it happened. It's one of the dangers of playing contact sport, I guess. It could happen to anyone. But be for the Grace of god, it doesn't happen to many."
The incident happened as Kavanagh played King's High School in an under-18 grade match at Dunedin Rugby Football Club.
Matt hit his head on the ground with about three minutes to go.
The referee saw the impact and stopped the game.
Matt, who was wearing headgear, passed on-field concussion tests and appeared unhurt but collapsed a few moments later as he was about to feed the ball into a scrum.
The game was called off and his family have been by his bedside ever since.
Mr Read and Kavanagh First XV coach Ant Harris have been in regular contact with the family.
The school has been grateful for the support it's had from parents and other schools in the region
A spokeswoman for the Southern District Health Board said Matt's parents wanted to remind people that his condition remained serious and visitors were restricted to immediate family.
- APNZ