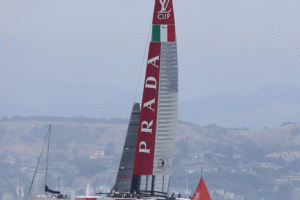 Luna Rossa has taken the first point of the Louis Vuitton Cup semifinals but it was Artemis who impressed, with the Swedish team producing a creditable performance in their first competitive outing at the America's Cup.
A healthy downwind speed advantage saw the Italians take out the first race by just under two minutes this morning, as Artemis struggled with their downwind speed and execution of their gybes.
But the Swedish team, who took to the race course for the first time yesterday after just nine days of training on their newly relaunched AC72, can be satisfied with many aspects of their performance. While Luna Rossa had a higher average speed, it was Artemis that recorded the top speed for the race (40.56 knots), with the Italians carrying some damage to their wingsail.
Artemis led the race early on after Australian helmsman Nathan Outteridge won the pre-start, shutting Chris Draper out in the start-box. The slick navy blue boat, which carries a poignant tribute to their fallen teammate Andrew Simpson in the form of a blue ribbon painted on the wing, led Luna Rossa at the first mark.
But with a speed differential of up to four knots between the two boats downwind, the Italians quickly overran Artemis on the first run, leading by 30 seconds at the second mark.
Artemis managed to eat into some of Luna Rossa's lead upwind, however the Italians were able to push out a healthy lead on the following run as they capitalised on their speed advantage.
While the final delta of 1 minute 56 seconds would have been larger than Artemis would have liked, completing their first race of the regatta is a big achievement for the Swedish team. The relief was evident in Outteridge's quip as they crossed the finish line - "well, we finished".
The first race of the Louis Vuitton Cup semifinals nearly didn't get underway, with the race under threat from strong winds. The wind was forecast to peak at around 25 knots today - well above the 21 knot limit imposed by regatta director Iain Murray following Artemis' fatal capsize in May.
The wind remained stable at around 16-20 knots prior to the race getting under way, but the bigger concern was whether it would be too much for Artemis' team-imposed limits. Skipper Iain Percy said last Friday that the team would not risk the safety of the crew.
"We will never get to the point where we take unnecessary risks. We push to a point where we feel risks are reasonable," said Percy. "There is no in-the-middle for how you sail the AC72, but there are wind limits where you can keep the boat safe."