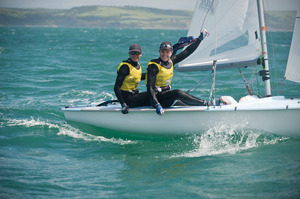 Olympic champions Jo Aleh and Olivia Powrie have made a good start to their quest for a first world title, taking an early lead at the 470 world championships in La Rochelle, France, overnight (NZT).
Aleh and Powrie were second in the day's first race and followed that up with two victories to sit on two points and hold a three-point lead over European champions Camille Lecointre and Mathilde Geron of France in second. The regatta is being held over six days, with more weighting given to races later in the week.
Paul Snow-Hansen and Dan Willcox also made a strong start and are third in the men's class after a fifth, fourth and first in their three races. Olympic champion Matt Belcher and Will Ryan of Australia topped the 114-strong men's fleet after two wins and a second with Pierre Leboucher and Nicolas Le Berre of France in second.
Fellow Kiwis Francisco Lardies and Luke Stevenson were 37th and Richard Power and John Power 104th.
"In typical regatta style, we had conditions we hadn't seen for the two weeks [while] we have been here getting ready, complete with thunder storms early on today,'' Aleh said.
"It was a great breeze of 12-16 knots, and some rather large waves at times as it is very shallow out there. We started off well with a second in the first race, and then followed that up with two race wins.
"The breeze was anything but consistent, with massive shifts and pressure lines coming across the race track. We didn't exactly get everything right - we just didn't stuff anything up too badly, which seemed to be more important. We were always in the mix at the first mark and then managed to get a few things right on the next few legs including some flying reaches which were great fun.
"One more day of qualifying tomorrow, with two races and then we split into gold and silver [fleets], so all we need is another good race tomorrow and we will be through and ready for [the] finals. The qualification series will end up only counting for one 'race' so it's a bit like the regatta really starts on day three.''
New Zealand results from the 470 world championships sailed off La Rochelle, France, overnight (NZT):
Women (52 boats)
1st - Jo Aleh and Olivia Powrie (2, 1, 1)
Men (114 boats)
3rd - Paul Snow-Hansen and Dan Willcox (5, 4, 1)
37th - Francisco Lardies and Luke Stevenson (11, 15, 13)
104th - Richard Power and John Power (35, 34, 34)
- APNZ