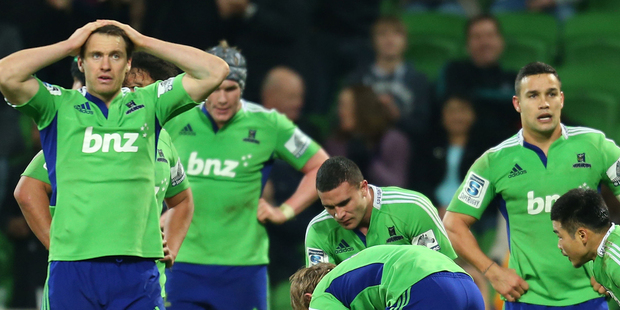 With the Super 15 coming to an end nzherald.co.nz marks the peformances of each New Zealand franchise. Today: Gregor Paul grades the Highlanders.
Season record:
(3-13) 5th in New Zealand Conference, 14th overall
1. Best result
38-27 v Blues, Dunedin, Week 16
Finally, after weeks of metaphorically straining: if pushing so hard the veins were bulging only for nothing to be delivered, the Highlanders had blissful release on Queen's birthday weekend. Everything flowed - the cork flew out and the Highlanders ran and passed, hit rucks, ran and passed and hit rucks. They were 29-7 up at half-time and for 40 minutes they gave us a glimpse of what might have been.
2. Worst result
38-37 v Rebels, Melbourne, Week 20
Seriously, it takes quite incredible dedication to blow a 31-7 lead with 30 minutes remaining as the Highlanders did in Melbourne.
They had tried pretty hard the previous week to throw away a commanding lead against the Hurricanes but couldn't quite pull it off - winning 49-44. But a week later they made no mistakes - they charged out, had the game under control and then sat back and admired the self-destruction.
3. Best player
Tamati Ellison. Maybe he's right to believe he's never going to be a starting All Black or the sort of player who kids put posters of on their walls. But he's tidy, direct, clever and intuitive at Super Rugby. A class footballer - the sort of dedicated professional who makes a difference.
4. Biggest flop
You know the answer has to be Ma'a. Poor old Ma'a - his brain must have been chilled by the Deep South. His most memorable contributions to the Highlanders were a yellow card for a wild charge on good mate Piri Weepu - trumped by a red when he tipped Tom Marshall. Needless to say Ma'a and the Highlanders have reached mutual agreement that he move on.
5. 2014 prospects
Welcome to the new reality show 'I'm a rugby player get me out of here'. There is an unseemly rush for the door at the moment - Hosea Gear, Ellison, Kade Poki, Colin Slade and Nonu are on their way. A few more want to be on their way and looking at what they will have left - Tony Woodcock, Andrew Hore and Brad Thorn - they may be pointing into the wind about to get wet.