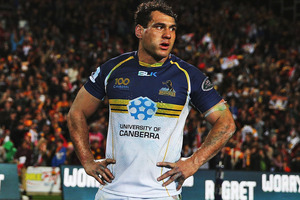 His coach Jake White called him "phenomenal" and opposite Tanerau Latimer said he just gets better with age.
Imagine what they would be saying about George Smith had the Brumbies held on to their lead and beaten the Chiefs?
Flanker Smith's performance at Waikato Stadium was something truly special. He would have been man of the match had the Brumbies won due to his efforts at the breakdown - he has proven to be still among the best in the world there - and on defence. Instead, Liam Messam won the prize as well as the trophy, and he was another deserving of the highest praise.
What made Smith's efforts so good was the fact he is 33 years old, came into the Brumbies season after playing club rugby in Japan, and has already said goodbye to the Brumbies and Wallabies once before. And that's without mentioning his terrible blow to the head while playing again for Australia recently in a one-off test against the Lions.
White said of Smith: "Obviously that's his last game. We feel a bit for him because we wanted to give him a trophy as well and let him finish on a high note but it wasn't meant to be."
But for the player there were few regrets.
"I've had a great time," he told media afterwards. "It's been amazing. I've absolutely loved every moment playing with the Brumbies and the one-off chance to play with the Wallabies. I've always regarded the Brumbies as family. I felt at home when I did arrive [back] and I'm very grateful for the Brumbies' fans and the Brumbies' organisation for welcoming me."
Smith, who has played 111 tests and is about to return to his Suntory club, was a member of the Brumbies teams which won the competition in 2001 and 2004.
He left in 2010 for club rugby in France and then Japan before a dramatic return when replacing injured loose forward Ita Vaea.
Now he is off again - without the fairytale finish but with the knowledge that he gave it his best shot and came very close.
- APNZ