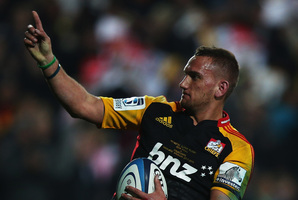 As far as his goalkicking goes, Aaron Cruden has had, in his own words, "a tricky old season".
A groin injury picked up in pre-season training meant he couldn't practise his goalkicking at all during the early rounds, which meant Gareth Anscombe took the tee until the Chiefs' 11th game of the season - a match which turned out to be an extremely narrow escape against the Force at Pukekohe.
That's a long time for a first-five wanting to prove himself as a credible alternative to Dan Carter, and while he settled into his kicking groove as the season went on, there were a few bad misses against the Blues at Eden Park recently and his first kick of the evening against the Brumbies at Waikato Stadium wouldn't have helped his nerves one bit.
With the Brumbies up by 6-0, Cruden duffed a kick from right in front, the ball's flight resembling that of a badly wounded duck.
He had a couple of other misses - hitting a post with a penalty in the second half when the score was 19-12 to the Brumbies, and the conversion of Liam Messam's try.
But he came back with two more successes - the conversion of Robbie Robinson's try and a penalty with eight minutes remaining to stretch the lead to 27-22 for a five-from-eight return.
Asked to shed some light on his kicking form, Cruden said afterwards: "No, I can't. It's been a tricky old season. It's been a bit hit-and-miss and I was just stoked to see the last couple go through the posts.
"I'll have to get back on the horse and keep at it, but as a kicker you just have to try to kick your way through the bad times and hopefully a few go through the posts, which the last couple did."
Cruden was better against Carter and the Crusaders than he was against the Brumbies, the visitors' swarming defence putting pressure on all of the backline including halfback Tawera Kerr-Barlow and the midfield of Andrew Horrell and Charlie Ngatai.
It is a testament to the Chiefs' determination and team ethos that they overcame the difficulties of the first hour. And the 24-year-old Cruden has developed into a player who rarely gets flustered.
That's a quality which could lead to a bigger leadership role at the franchise, if flanker Tanerau Latimer is to be believed.
Asked how the Chiefs will cope with the departure of Craig Clarke, Latimer replied: "Clarkey is calm, which is great for our team. And [co-captain Liam] Messam is all hammer and tongs. It's a great contrast, it works well. Azza [Cruden] might have to step up and be the calm guy next year."
Cruden said the most satisfying thing about winning consecutive titles was that it was the realisation of a goal set at the start of the year.
- APNZ