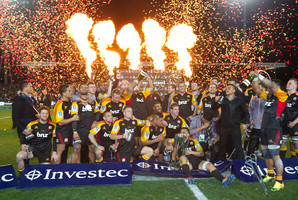 Where does the Chiefs' latest success rank among the finals of the 18-year competition? We think it's up there with the best and a whole lot better than last year's one-sided affair against the Sharks. Here are five of our favourites, in no particular order.
1 Super 15 final, 2013
Waikato Stadium, Hamilton.
Chiefs 27 Brumbies 22
A thrilling match in which the Chiefs had to dig extremely deep to overturn two scoreboard deficits. It was a match which could have gone either way until the final whistle and featured three very good and contrasting tries. The victory represents consecutive titles for the Chiefs and gives them a chance of a hat-trick, something only the Crusaders have achieved so far.
2 Super 12 final, 1996
Eden Park, Auckland.
Blues 46 Natal 25
The 1996 final produced the perfect ending to the inaugural Super 12 season for the Blues, who were in the (now) unusual position of having most of the country cheering for them. They kicked off the competition by beating the Hurricanes in the first ever professional rugby match in the country, and ended it by thumping Natal on a Sunday afternoon final in front of 46,000 at Eden Park.
3 Super 12 final, 2000
Bruce Stadium, Canberra.
Crusaders 20 Brumbies 19
The final that capped the Crusaders' three-peat in Robbie Deans' first season in charge. In a match plagued by sleet and snow which limited the sides to one try each, the Brumbies looked to have won it with a penalty four minutes from time. But Andrew Mehrtens landed his fifth penalty a minute later to snatch it.
4 Super 14 final, 2007
ABSA Stadium, Durban.
Bulls 20 Sharks 19
In the first all-South African Super Rugby final, the Sharks were leading the Bulls 19-13 as the clock struck 80 minutes. But two minutes later the Bulls had somehow emerged champions. A converted Bryan Habana try deep into injury time spoiled the party for 54,000 home fans as the Bulls won their first title.
5 Super 12 final, 1998
Eden Park, Auckland.
Blues 13 Crusaders 20
The smart money was on the Blues to win the Super 12 crown for the third successive year when they met the Crusaders in the final of 1998. They had the history and also the form - coming first in the round-robin - so when Crusaders wing James Kerr scored a late try to earn a 20-13 win, it caught many off guard.