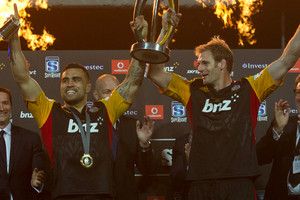 Honours boards or statues do not suit the Chiefs' balanced culture, but some recognition for captain Craig Clarke seems appropriate.
He did not make the final rugby ascent to All Black honours but his package of leadership and delivery was a core component of the Chiefs' repeat Super 15 title.
His contribution will be noted even more next season when he is playing in Ireland as the Chiefs embark on their search for a hat-trick of crowns.
That remarkable feat has only been achieved by the Crusaders when they crested the dais in 1998, 1999 and 2000 but even without Clarke, Lelia Masaga, Toby Smith, Brendon Leonard and Richard Kahui, you would be daft to dismiss that prospect for the Chiefs.
The collective coaching credentials of Dave Rennie, Wayne Smith, Tom Coventry and Andrew Strawbridge are balanced and complementary. They deliver the framework and the changes to keep up the intellectual energy of the group while Clarke is the conduit.
The man known as Weka collects the shiny bits for his teammates to grab onto while he polishes their work ethic and shows them how to deliver. He is a "follow me" sort of skipper, a bloke who might have blown out 30 candles last week but shows no sign of running out of puff.
When he was missing this season, the Chiefs wavered. Any tributes should use Rennie's quaint "bloody good man" description of his skipper.
He reflected his coaches' wishes and ethics, he was the example for the players to emulate. It's hard to think of any who missed the lessons.
That sporting confluence is hard to teach and even more difficult to absorb when the pressure rises as it did for more than an hour as the Chiefs looked for their rhythm.
In the boldest imprint on their minds, though, they trusted their game and kept working on the selfless "it's not over to you, it's what can I do" team patterns.
They were up against a committed Brumbies side, a group who brought similar attitudes and an unbending commitment to their cause. They carried ethics and values which drove them to the crest of the competition and Saturday's enthralling shootout and eventual 27-22 triumph.
When this Chiefs group first assembled under their coaches at the tail end of 2011, they went through a range of team-building and bonding exercises.
Many of the squad had connections to the rural fringes of the Chiefs and the staff wanted everyone to understand that sort of common strength. It was a roll your sleeves up, get on with it attitude, a gallant, unselfish trait they wanted.
They selected many players who probably incurred furrowed brows and "who the hell are they" questions from those who did not closely follow the ITM Cup. They wanted blokes who knew how to take a hit and bounce back, men who laughed at hard work and, in a sporting version of Oliver Twist, asked for more. Men who felt the comradeship and had the courage to do more, to make one more tackle, to show one more piece of grit they could staple to their coaches' ideas and savvy.
Step forward Chiefs - Super 15 champions once more.