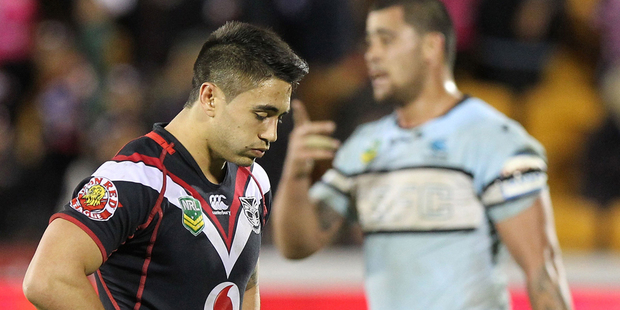 The Warriors were a bit sleepy against Cronulla on Saturday night so it was little wonder they referred to their 18-14 defeat at Mt Smart Stadium as a wakeup call.
They are by no means out of the race for the playoffs, and Newcastle's draw with Brisbane on Friday night helped their cause, but it certainly put a dent in their top-eight ambitions. They have five games remaining and need to win at least three, if not four, and hope other results also go their way.
Their first assignment is against the third-placed Sea Eagles. Fortunately Sunday's match is at Gosford, and not Brookvale Oval where the Warriors have a poor record, but countering that is the fact Manly are in Asada's sights as the drugs probe across the Tasman deepens and teams often galvanise under adversity - the Sharks have done it all season.
Matt Elliott's side will need to bring the sort of application and attitude they had been playing with for the past eight weeks. It was missing at Mt Smart Stadium on Saturday night and, despite a late rally when they got to within four points after being 18-4 down, an efficient Sharks outfit took advantage.
Their effort and execution was off and it reflected in the stats - 67 per cent completion rate, 13 errors and 36 missed tackles - but one positive was the fact they nearly won the game even though they played so poorly.
Some in the Warriors' camp wondered if the players had become a little complacent, as if they were starting to believe their own press.
"It's very deflating,'' a subdued Elijah Taylor said. ``But we can't let it rattle us, we can't let it get to us too much. We have to forget about it and move on. It's a wakeup call. Our execution was poor and we made a lot of mistakes and we can't afford to do that at this part of the season.
"It doesn't get any easier, which is why the head is a bit [sore]. We just have to chew down on it, learn from our mistakes and take responsibility for our performance. It's going to be a tough trip and we have to win it.''
It is perhaps not surprising the Warriors let their standards slip. It's like they have been playing finals football for the past two months and it's hard to sustain that level of intensity for so long. Saturday's defeat might help keep expectations in check - some were seeing the Warriors as title contenders - and help refocus the players.
"It comes down to how badly we want it,'' fullback Kevin Locke said. ``Personally, I wasn't there [against the Sharks]. There are no excuses in the NRL. I need to put my hand up and hopefully sort it out next week.''
The Warriors beat Manly 18-16 at Mt Smart in June - their first win in seven games between the two sides - but the Sea Eagles go into next weekend's match having won their last five. Admittedly, they were against largely struggling sides (Eels, Cowboys, Titans, Tigers and Eels again) but they are a hard-nosed outfit with many survivors from the side who won the 2008 and 2011 competitions.
The next five: Warriors vs Manly (A), Penrith (H), Titans (A), Raiders (H), Dragons (A).
- APNZ