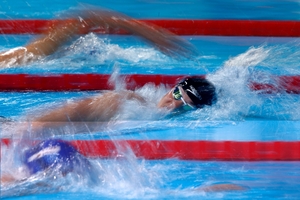 Regardless of the result in Lauren Boyle's specialist event, the 800m freestyle, at the world championships in Barcelona this morning, her efforts have been a catalyst for Swimming New Zealand's future.
With the third fastest time in the world this year before the meet and the second fastest time in the heats (setting a New Zealand record), Boyle could add to bronzes earned in the 400m and (non-Olympic) 1500m freestyle. She finished fourth at the Olympic Games in the 800m and won gold at the short-course world championships in December.
Last Sunday, the 25-year-old's beaming smile told a triumphant story after years of adversity in and out of the pool. Boyle claimed New Zealand's sixth medal in the 40-year history of the world championships. She joined a club inhabited only by Danyon Loader (three medals in 1994), Anthony Mosse (1986) and Gary Hurring (1978). She added the seventh on Tuesday.
Boyle once trained under American women's coach Teri McKeever at the University of California Berkley, a decision she is on record as saying kept her in the sport, before returning home to work with Mark Regan before his January exit.
Regan was protective of his charge. He once said: "I don't give a rat's arse what people want, the only thing we can ask [of athletes] is for them to do their best. I just want to see them touch the wall, take their goggles off and smile because they have done a personal best."
Boyle's done plenty of those recently. Hopefully Regan, wherever he is, could also afford to smile. This is Boyle's gift to Swimming New Zealand; a lifeline. Almost single-handedly, she has helped guarantee funding beyond the $1.4 million which came via High Performance Sport New Zealand this year (Gareth Kean in the 100m backstroke and Glenn Snyders in the non-Olympic 50m breaststroke also made finals).
For Boyle to sustain her performances to the 2016 Olympics will be tough, with a new batch of freestylers coming through, but at least New Zealand's other athletes have glimpsed what is possible if they hug the pool's black line as much as she does.
The new management trio entrusted with inspiring the next generation have only been at SNZ since the start of the year. Spanish high performance director Luis Villanueva began in January, Australian chief executive Christian Renford in March and British head coach David Lyles in May.
They have experienced a dream start. The Herald on Sunday spoke to Renford in Barcelona following five months in charge. After acknowledging the efforts of Boyle, he made a compelling case for how to progress the sport. All CEOs know how to do that, but there was little doubting his sincerity.
"Lauren is vital, the jewel in the crown," Renford said. "She's a wonderful ambassador for our sport and if we continue to produce people like her we will be in good stead. But it's unfair to rely solely on her.
"We need to show it's not good enough to simply qualify for the Olympic Games or world championships. You have to perform on that world stage. [A lack of] money also can't be used an excuse. This time I believe the turning point has been the decision by Luis to opt for an eight-week build-up to the meet. Normally it is has been up to three weeks acclimatising and settling in."
Elsewhere in the regions, Renford said a priority was coaching: "We want to put more resources around that. [My tours around the country suggest] we have wonderful coaches. We just need to do more to help their network from the Olympic level to aspiring club coaches."
Renford lapses every so often into the corporate jargon of getting-the-right-structures-in-place, same pages, KPIs, ABCs, XYZs and silver bullets. His quote that SNZ want to "acknowledge, utilise and respect our history" also sounds like it might have come from a strategic plan. However, he claims one of his initial priorities has been to get out and meet the New Zealand swimming community to start breaking down some of the enmity which has caused the sport to implode in recent years.
"That's sports administration," says Renford who has a background in rowing and surf lifesaving in Australia. "People looked me in the eye and they committed. I sense they have had enough of the past from the forums I intended."
Boyle's efforts over the past week are the key which should grant Renford that access.