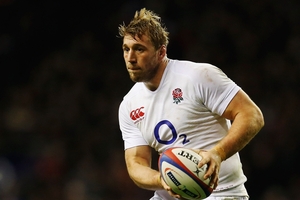 After a summer off and with coach Stuart Lancaster pointedly leaving the role open, England captain and flanker Chris Robshaw is suddenly under pressure.
"It's been a very nice summer," he says. "I had about six weeks off, got away from rugby, mentally switched off. It's a very nice feeling."
It was not his idea that he retreat from the game. When his hopes of a Lions call-up to Australia were dashed, he was more than willing to represent his country on the tour of Argentina. But others thought that after a season of almost unrelenting pressure, he would benefit from the chance to recharge.
"I wanted to go, but I think you have to listen to the people around you," he says. "When you're in the bubble, you get caught up in it, moving from game to game, you're not looking at the bigger picture."
A man with an unstinting work ethic, he admits he felt a little guilty watching television footage of the Argentina tour: "You never want to miss the opportunity, you want to play every game, especially for your country."
He certainly looks it: lean, hard, muscular. But his position as captain of England appears to be under threat.
When Lancaster announced his elite player squad this week, there was no captain earmarked for the upcoming internationals. Speculation is rife that the job may go to Northampton flanker Tom Wood, who led the successful tour to Argentina.
But Robshaw remains more focused on getting his body right for the start of the season before he worries about the captaincy issue.
"This has been my first proper pre-season for a while. It's been nice allowing the body to recover properly, get rid of some niggles."
He says he will require all of his newly restored verve as his club Harlequins need to recover some of the ground lost last season when they failed to retain the Premiership title.
"Last season we found out what it is to be the hunted," he says. "We were the team people wanted to knock off the perch."
And, he says, it will be even tougher this season, with Bath, Gloucester and Exeter adding to the competition for the top places offered by Leicester, Saracens and Northampton. Not to mention the newly promoted Newcastle, coached by Dean Richards, who gave Robshaw his chance when at Quins.
"I'm sure he's got a few things up his sleeve," he says. "The truth is there is no longer a walkover game in Premiership. But that competitiveness is good for the game."
It is to the international game that his thoughts turn. Asked how he intends to ensure France do not pull off the trick of winning the Six Nations which they have on the last four occasions following a Lions tour, he smiles.
"We get told these random stats, but that's one that makes sense," he says. "It's about the clubs taking responsibility to make sure players are not over-used. But some of us have had plenty of rest. We'll be ready."