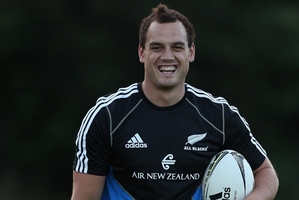 He's a real card, that Israel Dagg. The type of guy that can keep you entertained for hours armed only with a sock puppet and a whoopee cushion.
Need a few ribald jokes to entertain the troops? Just call Izzy.
Someone who can sing along to Kevin Bloody Wilson's inanities on the team bus? Izzy's your man.
You need somebody to fire off a homophobic tweet? That's just Izzy being Izzy.
Silly old us, then, falling for the king of the practical jokes, after he fired off another less-than-140-characters gem on Thursday evening.
"Congrats @beaudenbarrett signing for the @bluesrugbyteam," @izzy - Dagg wrote.
Pardon the pause here, but it's bloody hard to type when you're ROTFL.
The sheer brilliance of Dagg's joke lies in its subtlety.
Yes, we know the Blues have identified the need for a world-class first five-eighth. Sure, they've coveted Barrett for some time and have put an offer in front of him. Perhaps there is more than a smidgen of truth to the rumours Barrett lost respect for the Hurricanes' management group after he was shunted to fullback during the Super 15, replaced in 'his' No10 jersey by, wait for it, Tusi Pisi (now there's a cracking good joke).
So you can see what Dagg's so cleverly done here, linking the two in one snappy sentence.
But wait, there's more.
The All Blacks, sans Chiefs, have been in camp this past week, putting Dagg and his wee mate Beaudy in the same postal code for a few days. It's highly likely, given the conjecture of the past fortnight, that Barrett's AB buddies have inquired on the QT about his future plans.
And therein lay the brilliance of Dagg's humour; he's combined established facts with his access to inside information to fool the world into thinking he might actually know something.
"Just joking peeps good banter," was young Izzy's next tweet.
Yep, good banter all right.
Bet John Kirwan thought it was the height of persiflage when his phone started vibrating furiously as he tried to magic up a deal with another potential Blues No10, Benji Marshall.
Bet Mark Hammett hasn't enjoyed banter like that since somebody at the NZRU told him he had to take back Ma'a Nonu, a player he couldn't wait to get shot of two long, long years ago.
Bet Baden Kerr and Chris Noakes, who are probably waiting to hear whether they'll be delisted ahead of next year's draft, thought John Belushi had been reincarnated as Dagg's Twitter account.
Bet Barrett is undergoing surgery now to stitch up his split sides.
Let's be honest about this: there is no joke here, which leaves us with two options.
Either Israel Dagg knows that Barrett is going to the Blues and has let the cat out of the bag to the embarrassment of everybody involved; or he is a moron.
The really funny thing is: if and when Barrett does announce he's leaving the Hurricanes for the Blues, who is the joke on then?