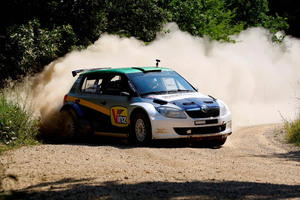 Former production world rally champion Hayden Paddon is back with the big boys of rallying this weekend in Finland to try to get his foot further in the door for a full time gig in the WRC in 2014.
Unable to nail down a regular drive in the world championship this year, Paddon and co-driver John Kennard have been contesting the New Zealand Rally Championship and a one-off round of the European Rally Championship in Ypres Belgium in a Ford Fiesta S2000.
The Kiwi pair were on pace for a podium finish at their first tilt at the specialist tarmac Ypres Rally, and were in contention the entire rally - even winning a stage on day one - only to come unstuck towards the end of the rally, crashing out on stage 14.
Despite the setback, Paddon was pleased with his pace and is back in a Skoda Fabia Super 2000-spec car for the first time in eight months. He's aware he's got his work cut out up against the 12 other teams contesting the WRC2 championship.
"The top 10 or 12 drivers entered in the class are all capable of a podium result, so it's going to be intensely competitive on this very fast gravel rally," Paddon told the Weekend Herald after his first recce of the Neste Oil Rally Finland roads.
"The roads are looking pretty good and it's all going well so far. Of all the places raced in the world championship the roads here are the closest to what we get in New Zealand in terms of their character.
"They're fast, wide and flowing with a lot of crests and they're the sort of roads I enjoy and am more accustomed to. I think we can put together a good result and now it's just a matter of putting together a good drive."
Paddon and Kennard are looking for a top finish to boost themselves into the top echelons of the competitive WRC2 class, which replaces the former FIA Super 2000 World Rally Championship.
"Of course our target is to win. However there are a lot of unknowns such as the new R5-spec cars competing in the WRC2 class. We've heard the R5 Fiestas are fast - they are turbo-charged while the S2000 cars are not, so that means there will be places where they have an advantage.
"We will, however, be able to use around 70 per cent of our pace notes from last year and after we go through them all again they'll be over 90 per cent good. They'll certainly be better than last year's," said Paddon.
Good pace notes are vital as they allow the driver to commit 100 per cent knowing there shouldn't be any surprises. This confidence coupled with some valuable seat time last week in the Baumschlager Rallye and Racing-prepared car, has put Paddon in a good frame of mind.
Competing under a refreshed team name as the Stadium Cars New Zealand World Rally Team, Paddon will be contesting Rally Finland for the fourth time, making it the European WRC event of which he has the most experience.
"I really enjoy the Finnish event. Unfortunately we didn't get to experience much of the event last year [after engine failure forced Paddon out when in second place just 1.5 seconds behind Finnish star Esapekka Lappi] but we have enough knowledge and experience of the specialist roads to mount an attack.
"It is a different kettle of fish being back in a S2000 car on gravel and it's been nearly 12 months since our last gravel rally in the Skoda, so it did take a little bit of time to adapt back into the car. But we have a good team around [us] that allowed us to get everything working well and the feeling with the car came back very quickly," said Paddon.
The Kiwi is up against some stiff competition this weekend, including former Polish Formula One driver Robert Kubica, winner of the WRC2 class in Greece and Italy, Norwegian speedster Eyvind Brynildsen and rising Welsh star Elfyn Evans. Paddon also notes Jari Ketoma and Karl Kruda, both in the new Ford Fiesta R5s, and Esapekka Lappi.
With 23 special stages ahead of them, the Kiwi pair face 324 competitive kilometres plus 1255km of touring stages over the three days.
After Finland, Paddon and Kennard are scheduled to contest August's mostly tarmac WRC event in Germany, and Rally Australia.