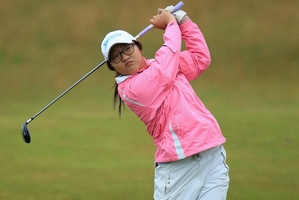 Lydia Ko would make a formidable poker player. If she is as inscrutable at the card table as she is on the golf course she could bluff James Bond.
Inscrutable might make her sound a touch severe, perhaps it is the look of serenity she adopts.
Playing golf looks like what the 16-year-old amateur enjoys most in life. She has a hypnotic routine while others, like American playing partner Lexi Thompson, regularly thump clubs into the turf in disappointment.
Has Ko ever lost the plot and thrown a tantrum, a club or even a banana peel in anger? If she has, you'd need the detection powers of Hercule Poirot to uncover the evidence.
The double bogey on the seventh hole during her first round of the British Open at St Andrew's Old Course is a case in point. Is that steam coming out her ears? No, just the mist rolling in off the North Sea.
After the round Ko admitted she "got angrier after that" and was "boiling away" but you'd need to be The Mentalist to see a change in her countenance.
She responded with four birdies in six holes.
Her rhythmical swing and instinctive feel never see her try to drive the cover off the ball or hold her irons to ransom by asking them to perform miracles. She even holds her putter as if it's a Ming vase. Countless hours of practice are distilled into a three-under par opening round of 69. Any hacker could learn something by watching Ko.
Fighter jets rip apart the grey sky as if it was a Top Gun set to try to distract her at one stage; Ko plays on. Thompson puts a ball into some gorse on the fourth, instigating a frenzied adult treasure hunt; Ko practises her backswing.
An umbrella hits the ground next to the third green as she strikes a 2m putt; Ko's ball drops into the cup. Fortunately she doesn't have to deal with any "geddintheholes". British golf fans have too much decorum.
In contrast, when Ko put her approach shot within 1.2m of the 17th pin, a couple of chaps in tweed deerstalkers stood with mouths agape.
"I cannae believe it," said one. "Aye Roy, this lass can play," his mate replied.
Team Ko leaves little to chance in pursuit of golfing perfection. The world No 17's presentation is immaculate, from a pink windbreaker to a duck egg blue jumper to pinched trouser cuffs keeping out the morning dew. The pink and glitter-lacquered fingernails wrapped around club grips suggest a creative streak lurks.
Coach Guy Wilson assesses Ko's dedication. He should know; he's coached her since she was 6. Wilson says when his charge has a "day off", it normally means only two to three hours' practice. In the afternoon following her first round she returns to perfect her pitching and putting.
Wilson owes her three hamburgers from last time they had a wager on this. Those juicy morsels might have to wait until post-tournament. On the course Ko disciplines herself to bottles of water, quarters of apple, bunches of grapes and bananas.
A local caddy "John" is hired so they can tap into his knowledge of course measurements and conditions. His Scottish burr makes it sound like Taggart is issuing instructions. Wilson says as an amateur Ko doesn't have the same caddy week-to-week so it's important to pick someone who's a good fit. John passed muster.
Mum is also involved, having chaperoned her daughter to the tournament. Mrs Ko walks ahead of play, generally out of Lydia's eyeshot, although she appears to pass on the container of apple later. It makes a refreshing change when compared to another parent on the course who storms off when his little darling misses a tricky 1.2m putt.
Soon Lydia Ko has traversed the Swilcan Bridge on the 18th and, after nailing a final birdie, is off to sign an impressive card.
• Ko shot three-under 69 to be in a 20-way tie for 18th, three shots off co-leaders Morgan Pressel of the United States and Sweden's Camilla Lennarth.