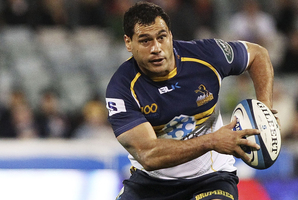 Sometimes strange things happen that just make you believe this is your time.
There can be nothing stranger than the goings-on in Pretoria last Sunday morning (NZ time). If bookies had given odds on the hypothetical that with a one-point lead and a dozen minutes left in a Super 15 semifinal, the Bulls would somehow decide to spurn three very kickable penalty goals in the next seven minutes, any sensible punter would have wanted more than a million to one.
That they eventually opted to kick for goal with five minutes left made their earlier calls look even crazier.
The Brumbies, as they have all season, defended like demons and when they were given the last gasp chance to enjoy some attacking territory, they did what was needed to book a date with the Chiefs.
They know they are in Hamilton thanks in some part to one of Super rugby's more notable mental meltdowns, but it's just this type of occurrence that can change your own mentality heading into a tournament decider.
Suddenly, there is a "this was meant to be" feeling in your preparation which is a far more energising motivator than the possible alternative of a "haven't we done well to get this far ?" line of thinking.
Any player worth his salt would deny that he'd ever harbour thoughts of being satisfied with just getting to a final, but players deny a lot of things that can be fact.
The reality is that the way they escaped in Pretoria will be of far greater benefit than had they enjoyed a comfortable all-the-way win.
The criss-crossing from Australia to South Africa and back, and then over to New Zealand for the decider wouldn't be first choice preparation for Ben Mowen and his team, but customs queues and time zone changes are more of an issue when there are four, six or eight weeks left in the tournament.
When you know it's all on the line this one last time, the drag of travel becomes less of a factor.
Is this Chiefs team a better outfit that the championship side of last season? On the strength alone of Sonny Bill Williams' absence, probably not.
Are the Brumbies team a better outfit than the one that surprised everybody in Australia last year by ending up a successful kick away from finals action? Unquestionably so.
Twelve of the likely starting team are in the Wallaby squad for the upcoming Rugby Championship and you could have added one to that were George Smith available.
And it's Smith who may be the crucial factor tonight at Waikato Stadium.
If there's a prize for the greatest mid-season signing in the history of the world, the Brumbies' South African coach Jake White is the recipient for nabbing Smith for the rest of the campaign, once David Pocock's season was done.
It is not only his play which remains at least to the same level as when he left Australia several seasons ago, but it's the obvious effect he has on his younger but extremely talented teammates, in terms of belief and self-confidence.
There's no "give-up" in Smith and that can be a contagious characteristic.
Even with the Bulls' brain fades last week, the Brumbies still needed to believe they could do the business. Having a bloke like Smith in your team enhances that belief.
All the normal ingredients that go into a pre-match analysis has the Chiefs as favourites. However, as we saw in Pretoria last week, strange things happen. On the back of that, the Brumbies won't go away at any stage of tonight's final and it would be no surprise to those who have watched their progress over the past 18 months to think that this could prove to be their time.