McKenzie to observe how players adjust to pressure ahead of championship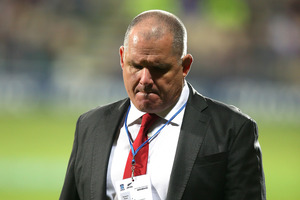 All rugby eyes are on Hamilton tonight as a tasty decider and teaser towards the resumption of transtasman sporting combat.
Is it a self-contained Super 15 showdown or will strong threads emerge to take into the opening Bledisloe Cup contest at ANZ Stadium in Sydney on August 17?
Best concentrate on the former because the coaches and playing styles are quite different from those which will be employed by the All Blacks and Wallabies.
Individuals tonight will be key components in their international sides but more of them tonight will be wearing the Brumbies uniform. Brodie Retallick and Liam Messam loom as Chiefs who will be frontline All Blacks among a quintet to make that cut.
A dozen Brumbies are in a wider Wallaby training squad which new coach Ewen McKenzie will gather next week as he meets some of those players for the first time and further assesses their international readiness.
"This is a busy transition time for us and we have picked a larger group because we need to know a lot more about these guys before we finalise our test group," he said.
McKenzie played 51 tests as a prop for the Wallabies before he turned his talents to coaching. He helped Rod Macqueen and Eddie Jones with the Wallabies between 2000-2003 when they won the Tri Nations and Bledisloe Cup titles.
He was asked about stepping up in 2006 but declined because he did not feel he had done a deep enough apprenticeship. When he thought he was ready in 2008, he was overlooked for Robbie Deans.
"You do start to wonder if it is going to be or the moment has passed you by," he said.
"In Australian sport they love the next new shiny thing and I have been around a bit."
McKenzie beat out Jake White for the role but the pair have publicly sworn their accord as White has taken the Brumbies to tonight's final.
"They have done a great job and it did not surprise me that they got the result against the Bulls," McKenzie said. "A dozen are coming into camp and that reflects their work. They have had a tough campaign but we will see how they pull up and it will be a chance to meet some I don't know.
"The camp will be a balancing act, depending on how things go in the Super rugby final."
McKenzie admitted he had mapped out a rough squad of 23 for Sydney and certainly knew how he wanted the Wallabies to play. However, he wanted to see how others adjusted to pressure and what assets they brought to the team situation.
"You can only find out those extra things when you spend time with some of these guys," he said.
He saw no need to change his captain as James Horwill had done the job strongly for him at the Reds and for Deans with the Wallabies. He was looking at players whose skills were complimentary but he was not obsessed about playing state partnerships. "If we are going to win the Bledisloe Cup we have to get better and that sort of momentum comes off confidence and consistency," McKenzie said.
"The Bledisloe pressure has been there in the last 10 years because people talk about it. You can't hide from it. You have to win two games in a row.
"If you are good enough to win twice in seven days you get the trophy."
Sounds uncomplicated enough, unlike the Chiefs and Brumbies who go into combat tonight to decide a tournament which began almost six months ago.