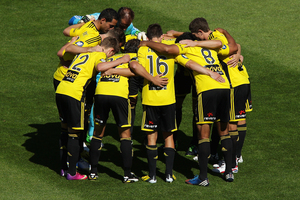 Ernie Merrick continued to slash the average age of his Wellington Phoenix squad by confirming today that 17-year-old Alex Rufer has been signed on a three-year professional contract.
Rufer - son of former All White Shane and nephew of Oceania player of the century Wynton - is still coming to terms with what has happened to him over the past couple of weeks.
Invited to trial with the Phoenix, the attacker could hardly believe what he was hearing when Merrick offered him the chance to become a professional footballer a week ago.
"I am absolutely stoked,'' Rufer said after helping a Phoenix side stacked with young triallists beat Wellington club side Petone 6-1 last night.
"Everything has happened so quickly it is hard to take it all in. I found it difficult to keep quiet while we were sorting the contract out. I wanted to tell everyone I was going to be a professional footballer.''
On taking over the coaching reins Merrick inherited an experienced bunch of players and immediately set about injecting some youth while also acquiring the likes of Costa Rican international Kenny Cunningham.
"It is good management to ensure you have a blend of experienced players who can cope with the rigours of professional football,'' Merrick said.
"If you also have a group of talented young players alongside them they can learn so much from those older guys.''
Merrick was enthusiastic when talking about his latest recruit and made it clear he believes the youngster is capable of challenging for a first team spot this season.
"The Phoenix is a work in progress and it is not going to happen overnight, but I wouldn't have given him a contract if I didn't think he could play now,'' Merrick said.
"Alex has just turned 17 but he is physically mature enough to cope with senior football as he's proved by playing regionally and nationally with Wests and Manawatu.
"I see him as a very impressive young talent, the type of player we can mould into the Phoenix style of play.
"Alex's signing adds to our stock of high quality young up-and-coming players.''
Asked where he saw Rufer playing, Merrick said he was an attacking player who could also be creative, and therefore could play as a striker or attacking midfielder.
"He has very good all-round technical skills, good ball control, a range of passes and an ability to dribble and score goals as he showed at Petone on Thursday night,'' Merrick said.
"The modern game demands versatility. With our philosophy and style of play Alex fits the mould perfectly.''
Rufer may have had his head in the clouds for the past seven days but he is quickly coming back to earth.
"Getting a contract is great but now the hard work begins to get better and stronger,'' he said.
``I've taken the first step and now the goal is to earn a place in the team.''
- APNZ