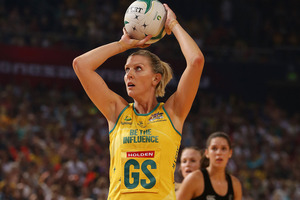 Australian shooter Catherine Cox has withdrawn from Australian Diamonds selection camp ahead of the 2013 international season citing fatigue.
The 108-test veteran made the decision yesterday to opt out of camp at the Australian Institute of Sport in Canberra.
``I need some extra time to recharge so I made the difficult decision to withdraw from the selection camp to ensure I'm at my best for next year's Commonwealth Games and 2015 World Netball Championships,'' Cox said.
Cox, who last year became just the fourth player in Australian netball history to record 100 test appearances, has not missed an international series since the two-tests against the Silver Ferns leading up to the 2010 Commonwealth Games - missing just five of the last 36 tests.
"It's disappointing that we won't have Catherine available for Australian Diamonds selection this year but the health and wellbeing of our athletes remains the utmost importance to us,'' Diamonds coach Lisa Alexander said.
"Our ultimate aim is to regain the gold and retain the title at the 2014 Commonwealth Games and 2015 World Netball Championships, respectively, so we need our athletes to be fresh, fit and healthy for the tournament.''
The withdrawal of Cox, who served as vice-captain last season, leaves a big question mark over who the next Australian captain will be, following Natalie von Bertouch's retirement last month. NSW Swifts midcourter Kim Green and Firebirds defender Laura Geitz are tipped as favourites to take over the mantle.
The Australian Diamonds team for the 2013 international tests will be announced at the conclusion of selection camp on Saturday afternoon.
They are due to play the Silver Ferns in the Constellation Cup series next month as well as two tests against Malawi.