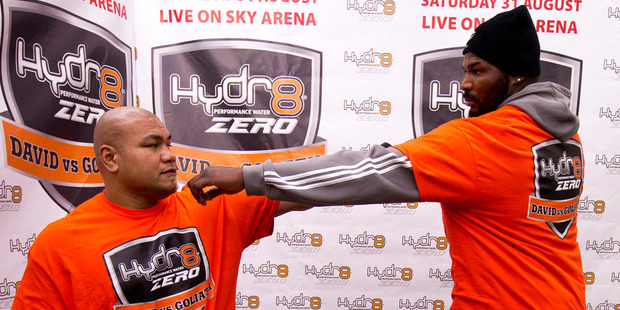 David Tua wears his determination on his hands.
Wary of catching a virus before his showdown against giant Russian Alexander Ustinov at Hamilton's Claudelands Arena on August 31, Tua was wearing thin, black, latex gloves as he undertook his media duties at his Onehunga gym today.
As the days tick by until the fight which could put his career back on track, Tua is leaving nothing to chance.
"You've got to be smart,'' he said. "I've worked too hard, trained too hard, man. When you're meeting a lot of people you've got to think about these things.''
If the devil is in the detail, Tua is going to hell and back to prepare properly for Ustinov, a big man with a fearsome 28-win, 1-loss record who is managed by the Klitschko brothers.
Tua's new sparring partner is Julius Long, a very big man from Detroit - said to be the tallest current professional fighter in the world. He is a man, who at 2.16m (7 foot 1 inch), would tower over even the 2.02m Ustinov.
The 1.78m Tua, not surprisingly, was made to look very small by the man known as the Towering Inferno. However, Tua, 40, also looked extremely fit and powerful, a testament to the work he has done.
A match-up against a much taller opponent is always going to lead to questions about his 2000 title fight against Lennox Lewis in Las Vegas which ended in a unanimous defeat for the Samoan-born Kiwi, and Tua is ready for them.
"I'm a guy who's always fought big guys,'' he said. "I'm in a weight division of giants and I love it. The fact is everyone refers this fight to the Lewis fight but for me this is another fight, another day.''
His preparations with new trainer Dave Hedgcock have gone well, with Tua knocking out his previous sparring partner Raymond Olubowale, a Canadian.
"I think age has helped as well,'' Tua said of his training. "I think I'm maturity helps. But today I die, tomorrow I do it all over again.
"There's still a lot of hard work to be done, but it's part of the game.''
Hedgcock is a colourful character from Melbourne who has a kickboxing background. In his introduction to the media today, he admitted he had been shot three times during his years working in the security industry. He was hit once by a shotgun and twice by hand guns, including a shot to the back by a 45 calibre pistol. "The doctor said it was just a miracle that it entered and exited without damaging any major organs,'' Hedgcock said.
"When you're running the clubs and major entertainment venues, everyone wants to be there, good and bad, and unfortunately ... I fell foul with several people and they didn't want to settle it with fisticuffs, they wanted to settle it another way, so consequently I've been shot several times.''
The short, middle-aged Hedgcock, best known for training Sam Soliman the former kickboxing world champion and now No1-ranked middleweight in the IBF, has instantly gelled with Tua.
"We've taken on a couple of new training techniques, a couple of new angles,'' he said. "I think you're going to see a very exciting and a very different David Tua. Everyone knows he's got the power and speed and he's come back. I've never seen anyone so dedicated.''
- APNZ