NZ side have been slow starters but Leuluai and Johnson combination shows promise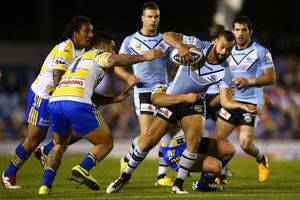 It amazes me Cronulla are so high on the NRL ladder despite all the off-field dramas they have had to put up with this season.
It shows incredible resilience to be where they are. As much as they are using the ongoing drugs probe as fuel, it's difficult to brush it off week after week and continue to play at a high level.
The first time teams are put in the spotlight, they often rally together and are highly motivated. The second and third time it happens, it can be a struggle.
Even when they have been without the likes of Paul Gallen and Luke Lewis, two big players, they have managed to find ways to win.
For the life of me, I just can't work out what the Australian Sports Anti-Doping Authority (Asada) has in the way of evidence. It's almost like it is hoping players come forward and incriminate themselves.
Yes, they probably used these substances but they weren't banned at the time and I feel for the players and what they are going through.
It's up to the players what they take but it's not easy to say no to a club. If the club tell you what you are taking is legit, then you would assume everything is fine because you put your faith in them.
But when you are given things to start injecting into the arm, that's when I would start asking questions and do my own investigations.
It's difficult to predict where the investigation will end but, in the meantime, the Sharks will continue to chase a place in the top eight.
Tomorrow's game looms as another difficult one for the Warriors, who have their own playoffs ambitions. I realise the Warriors have put themselves in this position because of their awful start to the season but there's just no letting up.
One week they beat the defending champions in Melbourne, the next they have to tackle a highly-motivated outfit like the Sharks. Next weekend they travel to Sydney to take on Manly.
Saturday's game could be decided by the guys in the No6 jerseys. Todd Carney is in brilliant form and when he plays well, invariably the Sharks play well.
When he starts to play with the ball and grows in confidence, he's hard to stop and it seems he's using his exit from the NSW side as a real motivator. Cronulla will also have more ammunition at their disposal with the return from injury of Gallen, who will be a huge boost for them.
One of the Warriors' best continues to be Thomas Leuluai. He knows how to build pressure and isn't afraid to hold the ball and straighten the point of attack if play seems to be drifting sideways.
His combination with Shaun Johnson, who is showing signs of maturity, is developing nicely and they seem to have worked each other out.
The Warriors have been slow starters in games, but they appear to have sorted this out. They are also playing with poise and patience, even when things are going against them, and it has made them look like genuine title contenders.