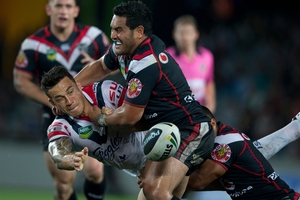 Coach Matt Elliott had a simple response when quizzed on what he planned to do to try to fix the Warriors' right-edge defence.
"I'm going to send it out there again ... and they will do a better job," he said. Fortunately his plan is a little more detailed than that.
It is officially the leakiest right edge in the competition, a distinction they share with the lowly Eels. Of the 74 tries the Warriors have conceded this season, 12 have come through the middle, 27 down the left and 35 on the right-hand side.
It is not the worst unit in the competition, with 44 of the 83 tries the West Tigers have conceded this season coming down their left side.
The Warriors' right edge was repeatedly torn to shreds by Melbourne last weekend until the injection of Dominique Peyroux from the interchange bench in the second half helped stiffen things up. He has been described as Elliott's "insurance policy" and can generally be relied on to do the right things at the right times on both defence and attack.
Personnel changes are not really an option - although some thought might be given to the rugged Thomas Leuluai and Shaun Johnson switching sides - because Konrad Hurrell, Ngani Laumape and Johnson offer so much on attack.
Johnson runs a lot of the Warriors' attack, Hurrell is joint leading tryscorer with Manu Vatuvei with 10 - a handful have been match-winning ones - and Laumape has slotted on to the wing since the season-ending injury to Glen Fisiiahi and scored three tries in his last three starts.
All three are young (average age 21) and inexperienced (Johnson's presence helps boost the average games up to 32) and Fisiiahi did little to bolster those numbers.
The presence of veteran centre Jerome Ropati at Warriors training this week prompted speculation he might play against Cronulla at Mt Smart Stadium tomorrow but Elliott has confirmed the same 17 who played last weekend will start. Instead, Ropati was chirping in the ears of Hurrell and Laumape giving them advice as the rest of the squad ran repeated attacking sets at the right-edge defence.
"The key is just to talk," Hurrell says. "Every single person needs to talk. I don't know if someone is covering my inside if they don't talk to me.
"But it's been hard for me. I am the newest guy to the game [in the team] and I'm still learning. It feels strange to tell other people what to do because I'm learning from them. I'm trying to overcome that but I think I play well when I'm talking. If I don't talk, I don't feel like I am in the game."
It's reflection of how difficult it is for Hurrell to bark out orders when he continually refers to Mannering as "The Captain" as a mark of respect. Mannering has been babysitting the right-edge all season but there's only so much he can do.
"By and large they do a pretty good job given the experience we are talking about," league commentator Andrew Voss says. "But they are going to be targeted. We are talking about discipline, concentration, communication. You have to do it every minute for 80 minutes when you are defending and I guess the guys are learning how hard that is. They are going to be put under pressure and it will happen again this week with Cronulla.
"The stats don't look good because sides see it as a weakness so that's the way they go more often than not. During games, they come up with some pretty good defence. I think the Warriors' defence has improved incredibly during the season and it's the outside backs who have improved the most. Where it becomes a problem is when they fatigue and that was seen again last week."
Hurrell has been doing three extra sessions a week with trainer Ruben Wiki in an effort to improve his fitness and stamina and it's something that is improving. Experience should also help him make better decisions.
"We love running more than tackling but it doesn't work like that," Hurrell says. "Hopefully it will come all right."
It will need to if they are going to not only make the playoffs but also make an impression.
Where the Warriors have conceded tries this season:
Right: 35
Middle: 12
Left: 27
Total: 74
The right stuff (tries conceded on the right side)
Eels: 35
Broncos: 34
Dragons: 34
Sharks: 33
Titans: 32
Bulldogs: 30
Cowboys: 25
Raiders: 24
Rabbitohs: 22
Panthers: 21
Sea Eagles: 21
Wests Tigers: 21
Storm: 20
Knights: 19
Roosters: 18