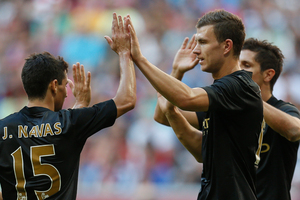 English Premier League games will be played on Sky Television afterall.
After losing the full rights to newcomer Coliseum Sports, Sky have signed a deal with four clubs to show delayed coverage of home and away Premier League games.
The teams are Arsenal, Manchester City and Tottenham Hotspur and another side to be announced.
The rights deal includes games shown on Premier League Club channels including matches from the Barclays Premier League, UEFA Champions League, UEFA Europa League, FA Cup and Capital One Cup that Manchester City, Arsenal or Tottenham play in.
Coverage will be delayed, for example games played in the U.K. on Saturdays will be available on Sky from 1.00pm on Sunday afternoon.
Depending on how far each team progresses in the Cup competition it is expected that each club will deliver as many as 60 match packages across the season - somewhere in the region of 240 matches.
In June it was announced that Coliseum Sports Media outbid Sky for the Premier League rights with the games to be played via an online platform called premierleaguepass.com.
A season pass will cost $149.90, with a day pass available for $24.90.
TVNZ will also run a match of the week game every Sunday on TV One from the start of the season. The channel will also broadcast an hour-long highlights show on Monday nights.
"When we were outbid for the live EPL rights we received letters and phone calls from customers who told us they either didn't want to pay more to watch the Premier League or for internet data," Sky's Director of Sport Richard Last said.
"Some said they didn't want to watch it on a computer but really wanted it on their flat screen TV in the lounge. While we'd love the live Premier League rights as well, in New Zealand many EPL games come in the middle of our night and, with MySky, we've found the majority of viewing is delayed."
Premier League rules mean that Sky can seek rights for up to four Premier League teams.
"Last season the top five teams were Manchester United, Manchester City, Chelsea, Arsenal and Tottenham. Chelsea games will be shown on free to air television in New Zealand anyway, so we've sought rights for the other top teams," Last said.
- nzherald.co.nz