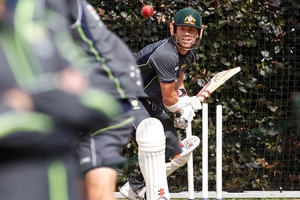 Australia's batsmen have vowed to draw on the fighting legacy of former test great Justin Langer and get their hands dirty trying to save the Ashes at Old Trafford.
That David Warner is set to return for a match teammates have sworn to fight for is not an ironic faux pas but perhaps a deliberate ploy.
Disregarding his off-field discrepancies, Warner possesses the second best test record of any Australian batsman behind Michael Clarke.
After his 193 for Australia A last week, it would appear crazy to leave Warner out of the third test, where a win is needed to avoid not only a third straight Ashes series defeat, but the worst losing run in Australian test history.
Most of the Australian squad have played under former test opener Langer, who quit as batting coach only last year.
Langer was one of the most successful players Australia has seen, even though he often gave the impression he was courageously battling for survival.
Rolled for an embarrassing 128 at Lord's in the second test, there's only one man for the Australians to follow according to opener Chris Rogers.
"I think it's just a fight. You've got to get stuck in," Rogers said.
"For Justin Langer, that was his motto and it seemed to work for me. I don't think there's anything else you can do but fight as hard as you can and just try and stay out there and not surrender your wicket, which we've probably been doing a little bit too easily."
Steve Smith is in doubt with a back injury, and if the right-hander was ruled out, Warner would slot straight in at No6.
But if Smith proves his fitness, as Australia expect him to do, Warner will have to come in at the expense of one of the top order - most likely Phil Hughes, causing a reshuffle.
Rogers said Warner had the potential to influence a match from the middle order like an Adam Gilchrist.
"He's one of those guys oppositions know they have to get out quickly," he said. "He's such a destructive player ... if he bats for a while he can take the game away like Gilchrist used to do so hopefully he can do that for us if he does play."
Australia are tossing up between Jackson Bird and Mitchell Starc for the final position in the pace attack. Bird is the favourite to play, with his control and consistency impressive.
Starc offers greater variation with his left-arm pace, but there's concern his footmarks create too much of a target for Graeme Swann to bowl into.
Spin will potentially play a bigger part in this test than at Lord's - where Swann finished with nine wickets to be named man-of-the-match.
England are considering picking Monty Panesar as well.
Australia are likely to choose against the dual-spin option, with the more experienced Nathan Lyon tipped to replace 19-year-old Ashton Agar for the high-pressure match.
England star Kevin Pietersen favoured his injured calf at training yesterday and remains in doubt, with James Taylor on standby.


Five greatest Ashes matches at Old Trafford
1. Ball Of The Century - Australia beat England by 179 runs, 1993 The match will be remembered for the Ball of the Century delivered by Shane Warne in his first delivery in Ashes cricket. The young legspinner pitched outside leg stump and took the top of Mike Gatting's off-stump to leave the England batsman, and the cricket world stunned.
2. House Full On Day Five - Australia draw with England, 2005 After the magic of the second test at Edgbaston, the sides arrived in Manchester locked at 1-1. Set 423 to win, Australia needed to last more than a day at the crease to save the match. More than 10,000 fans were locked out of the stadium due to the over-flowing crowd. Ricky Ponting batted for nearly seven hours for his 156. When he was out four overs from close, it seemed Australia were cooked at nine down. But Brett Lee and Glenn McGrath dug in for a courageous draw and the first in 17 Ashes tests.
3. The Laker Show - England beat Australia by an innings and 170 runs, 1956 England fast bowler Jim Laker took 19-90 for the match. In the first innings, he took the last seven of his nine wickets for eight runs in just 22 balls - with Australia all out for 84 in just 40.4 overs. But in the second dig, Laker got the big 10 - the second time that year he'd taken a full house against Australia.
4. The Comeback - Australia beat England by 54 runs, 1961 After giving up a first innings lead of 177, Australia staged one of the great fightbacks. Bill Lawry batted for 4 hours for 102, as the tourists made it to 432. England had to chase 256 to win with just four hours remaining. At 1-150 they looked the goods. Before the great Richie Benaud struck with 6-70 to skittle England for a famous victory with 20 minutes left in the match.
5. Beefy Bash - England beat Australia by 103 runs, 1981 Ian Botham smashed 118 off 102 balls in under two hours to turn the test. Before Botham came out, Australia were on top, England five down with a lead of just 205. But then Australia had 505 to chase. The Australians batted bravely, but fell 103 runs short on the final day.
- AAP