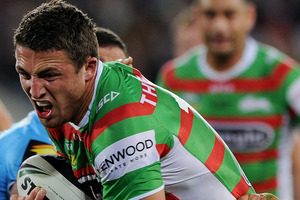 Sam Burgess announced himself back as one of the best value front rowers in our game in Round 20 of Fantasy NRL action.

Cowboys 16 Broncos 18
The star: Andrew McCullough (62pts) - He's a top 15 front rower and is the cheapest of all of those options, therefore, he's arguably the best value front rower in our competition.
The dud: Jonathan Thurston (18pts) - Thurston had posted three straight 30+ totals before this clunker. Thurston is a great example of a match-up dependant fantasy player.
Value pick: David Stagg (43pts) - Stagg's played a prominent role in the Broncos' game the past two weeks and his fantasy scores have reflected that. Given the minutes, Stagg is a tackle machine and at $96 he could be a great bench option going forward.

Bulldogs 40 Eels 12
The star: James Graham/Michael Ennis (51pts) - Both Bulldogs front rowers are averaging close to 50 points per game this season though Ennis is the better option as he costs substantially less than Graham.
The dud: Krisnan Inu (13pts) - His worst fantasy game of the season came one match after his best and that about sums up Inu this year. Avoid.
Value pick: Trent Hodkinson (37pts) - Hodkinson is one of the main reasons why Inu is struggling in the fantasy world this year as he is the one taking kicks for the Doggies. Six this week highlighted how valuable he can be when with the right matchup.

Dragons 18 Raiders 22
The star: Shaun Fensom (68pts) - He's by far the best fantasy second rower in our competition and this is why: 53 tackles and 103m gained.
The dud: Nathan Fien (12pts) - Fien is owned by a lot more people than he probably should be but he usually scores a little better than this.
Six missed tackles let the former Warrior down in this one.
Value pick: Joel Edwards (51pts) - This was Edwards' best fantasy performance of the season. 33 tackles and a try handed him the bulk of his score. At $160k he's a great cheap lock.
Titans 4 Rabbitohs 32
The star: Sam Burgess (69pts) - Burgess was huge in this game - 126m gained, two line breaks, two tries and 29 tackles. You can't ask for much more.
The dud: Albert Kelly (17pts) - Another dud from Kelly and the Titans. Owners might want to wait for the Titans to show signs of life before plugging him into your lineup.
Value pick: George Burgess (53pts) - Burgess hasn't played much over the past six weeks but is back and rolling now. For $161k he's one of the best value front rowers in our game.

Warriors 30 Storm 22
The star: Cameron Smith (58pts) - Not his best game of the season but he's still the best front rower and captain in the fantasy world.
The dud: Will Chambers (10pts) - Apart from a try-saving tackle on Shaun Johnson, Chambers went missing in this one, his worst fantasy game of the season. He'll bounce back.
Value pick: Maurice Blair (47pts) - Blair was almost unstoppable on the ground against the Warriors and his score reflects that. For $162k he's a great matchup player for the Storm.
Sharks 38 Panthers 10
The star: Andrew Fifita (54pts) - Now that Origin is out of the way I'm expecting big things from the Sharks front rower and this is a taste of that.
The dud: James Segeyaro (25pts) - He's been a decent bench front rower for sides this season but this was his worst performance in 2013.
Value pick: Tim Grant (36pts) - He's had some quiet patches this year but the last three games have seen him post consecutive 30+ tackle counts. For $209k there are much worse bench front rowers.

Knights 12 Roosters 28
The star: Boyd Cordner (59pts) - That's two straight weeks he's lead the way for the Roosters and he's now scored six tries in his past five games. Use him while he's hot.
The dud: Mitch Aubusson (18pts) - Aubusson scored 57 points last week so this was a huge fall in production. The Roosters must have opted to avoid his side of the paddock on offense. He'll recover.
Value pick: Sam Moa (46pts) - 23 tackles, a try and a line break for the big Roosters prop. At $127k he's another great bench option.

Tigers 18 Sea Eagles 36
The stars: Jamie Lyon (59pts) - Lyon did everything in the big Sea Eagles win. Two tries, almost 200m gained, a line break and six shots at goal. He's expensive but he's also an elite fantasy back.
The dud: Brett Stewart (14pts) - Stewart had finally shown signs of life over the past three rounds but went missing again in this fixture. Keep avoiding him until the tries start to flow once more.
Value pick: Justin Horo (49pts) - The stars all stepped up in this game so Horo and his $286k price tag is the value pick. He does deserve some recognition though as he's scored seven tries over his past eight appearances - the new Brett Stewart for Manly?