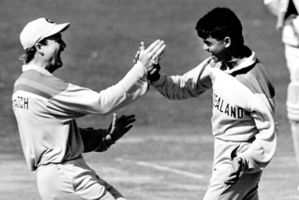 When Dipak Patel thinks back 21 years to the last time New Zealand hosted the World Cup, his strongest memory wasn't the playing of the games.
His sharpest recollection is of the groundswell of support the team received on their march to the semifinals.
Sure there were plenty of on-field high points - allrounder Patel opening the bowling with his canny offspin to catch the Australians off-guard in the opening match being an example. But the atmosphere at Eden Park for that unexpected 37-run win over the favourites helped set the tone.
"Suddenly the public believed in us and embraced us," Patel, one of five of the Boys of '92 on hand in Wellington for the announcement yesterday, said. "We were so well accepted and people believed we could beat every team we played."
New Zealand were led by Martin Crowe, who had a stellar campaign. In Patel's book "no question he was the best batsman in the world" at that time.
Patel remembers coach Warren Lees' "priceless" man management skills and the way the squad gelled. The group had been in Australia and seen how cocky their co-hosts were, and were smart enough to use that to their advantage.
New Zealand maximised home conditions, winning seven successive games before losing their final pool match to Pakistan in Christchurch, then losing in a spirit-crushing semifinal to the same team, and eventual winners, at Eden Park. Patel is sure the 2015 New Zealand team can take advantage of their location.
"I think it's a huge advantage," Patel, now coaching director at Howick Pakuranga club, said.
"People say playing at home is added pressure. It's not. You're in your own backyard. We know our conditions really well and if you can't draw on your own backyard we're going to struggle.
"The New Zealand public is very demanding but also very fair. If you perform well the support is unrelenting."