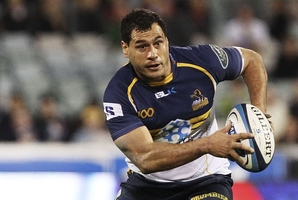 Global warrior George Smith is delivering another snapshot of his remarkable skills which were lost to the Wallabies for three seasons in the middle of Robbie Deans' tenure.
His breakdown combat with All Blacks Tanerau Latimer or Sam Cane will be one of the pressure points when the Super 15 title is decided on Saturday in Hamilton.
Smith may be 33 but his work is as physically sharp as it was in his 110 tests for the Wallabies before he became disillusioned about the selection treatment he got from Deans.
The openside flanker was enticed to help out the Brumbies on a short-term deal this season and forced Deans to include him in his test group. That withered when he was concussed but played on in the decider in Sydney.
"The travesty is he has missed out playing 40 tests for Australia, can you imagine that happening to Richie McCaw," his former Wallaby and Suntory coach Eddie Jones said.
"George is one of the best players we have ever produced without a doubt in the last 20 years and for him to leave Australia at 29 and not play test rugby was not right."
When Brumbies coach Jake White rang Jones, his assistant with the Springboks in the 2007 RWC triumph, to ask him to release Smith from his Japanese commitments for the Super 15 it was not an issue. The flanker was in great shape and had played 34 games and won 33 for Suntory.
Now Smith, after successes in 2001 and 2004, is looking for his third Super 15 title against the Chiefs.
"They try to play all their footy down the right end," Chiefs coach Dave Rennie said.
"They've got a really strong set-piece and win a lot of penalties, especially from their scrum, so I don't think they'll change too much.
"They're very well coached, they've got a lot of strong rugby brains there with Jake [White] and Laurie Fisher as well as a couple of ex-Wallabies in the background so I think they present a real challenge - probably more so than the Bulls."
The Chiefs have been resting at home after their single-point semifinal win against the Crusaders, while the Brumbies have flown back from South Africa into Canberra and then will fly to Hamilton tomorrow. Motivation for the Chiefs to defend their title comes with the farewells for captain Craig Clarke, Richard Kahui, Lelia Masaga, Brendon Leonard and Toby Smith.
Jones felt the final could produce a moment of individual brilliance like the Masaga try that turned the tide against the Crusaders.
"I think it will be close and the Brumbies are a very fit side so will handle their travel. Both sides have got outstanding defence and are easily the two best-coached sides in the competition, that stands out," he said. "The Chiefs are well organised, they play for each other and understand their roles really well like the Brumbies."
Like White and Stephen Larkham with the Brumbies, Rennie and Smith had done a superb job with the Chiefs.
Like the Chiefs, the Brumbies had struggled to get back into a rhythm after their June break. Their test frontrowers, Ben Alexander and Stephen Moore, had been hurt by the Lions series, but were now back on track.
Captain Ben Mowen was a smart leader who understood lineouts and had increased his impact by accelerating into contact more.
White had offered Jones a ticket to the final and he would have flown down from Japan but some family obligations prevented that.
"We speak regularly. Jake is doing a great job and it was a good chance to go to Canberra, which is a great rugby town to coach in with no interference."