World Cup details out today, with Christchurch a sentimental tip to host the opener.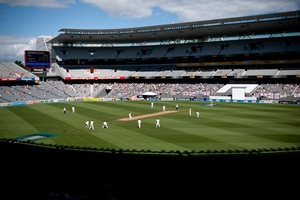 World Cup history is set to repeat in 2015, with Eden Park expected to receive the plum of a semifinal when details of the tournament are unveiled in Wellington today.
The last time Australia and New Zealand were joint hosts of the event, in 1992, New Zealand's run to the semifinals captivated the nation. It began and ended in Auckland, New Zealand toppling the Aussies in the opener before Pakistan ruined their hopes of making the final for the first time, also at Eden Park.
Catch our live blog from midday on the World Cup fixtures announcement
World Cup organisers have been tight-lipped on the specifics ahead of today's announcement. However the Herald understands Auckland will share semifinal duties with an Australian city for the cup, to run in February-March.
The early forecasts had been for a quarter-final to come New Zealand's way, but perhaps nothing more, with financial pragmatism winning out. New Zealand is likely to receive one of the four quarters.
And in a move which should be widely welcomed, Christchurch is tipped to host the opening game of the cup.
However there is an asterisk alongside that.
Christchurch is awaiting approval from the Environment Court on plans to build a venue at Hagley Park in the centre of the city.
If that is rejected it will be a significant blow not only to Canterbury Cricket but New Zealand Cricket and will force a rejig of hosting arrangements.
There are strong sentimental reasons for awarding the juicy opening tie to Christchurch, which hasn't hosted a significant cricket event since the city was torn apart by the February, 2011 earthquake.
On purely commercial grounds, playing both semifinals at the bigger Melbourne and Sydney Cricket Grounds would be the logical choice. However a joint operation should be just that.
In 1992, Eden Park hosted four games, Wellington three, Christchurch and Hamilton two apiece, with New Plymouth's Pukekura Park, McLean Park in Napier and Dunedin's now-defunct Carisbrook getting one each.
Today's announcement will cover all the important information. There will be simultaneous conferences in Melbourne and Wellington, with prominent playing and political figures, headed by Prime Minister John Key, on hand in the capital. The schedule for games will be released, as well as the venues.
Dunedin, Hamilton, Wellington and Napier are in line to play hosts with Nelson's Saxton Oval having made a surprise late rails run. Both Wellington's venues, the larger Westpac Stadium and the Basin Reserve, could see cup action.
In 1992, cup games were played in relative outposts Berri, Mackay, Ballarat and Albury, dots on the Australian cricket landscape.
That tournament was contested by nine teams and produced the best format of all 10 previous editions of the cup, as each team played all the others in a full round robin. Pakistan, inspired by charismatic captain Imran Khan, overcame a wobbly start to roar past New Zealand, then England in the final in Melbourne. With numbers up to 14 that format is no longer feasible.
Three teams are still to be found to complete the field, Ireland being the first non-test nation to qualify.
What's in store
*Eden Park is tipped to host a World Cup semifinal in 2015.
*Christchurch expected to host the tournament opener, subject to Environment Court approval for the city's new ground.
*Fourteen teams will take part in the February-March event.