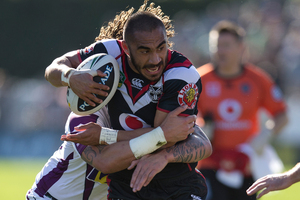 He is a player the Kiwis were banking on having at the World Cup but Thomas Leuluai hasn't decided whether he will play for New Zealand or Samoa.
The 28-year-old has been a key reason behind the Warriors' turnaround - yesterday they beat Melbourne 30-22 to win their seventh game from their last eight - as he's got accustomed to playing back in the NRL after nine seasons in the UK Super League.
Crucially, Leuluai can play at least three different positions and it is his utility value which appeals the most. He would most likely start on the interchange for the Kiwis, with the likes of Kieran Foran, Shaun Johnson, Issac Luke and, depending on what his next move is, Benji Marshall in the frame, and Leuluai's stocks would increase significantly if Luke was injured.
He has played all of his 18 tests for New Zealand, with his last at the 2008 World Cup, and would have been involved in this year's Anzac test before family issues forced him to withdraw from consideration.
Samoa, who the Kiwis play in their opening World Cup match on October 28, are building a competitive side and Manly centre Steve Matai is trying to convince a host of players, including former Mt Albert Grammar schoolmates Sonny Bill Williams and Leuluai to switch to the blue of Samoa.
It's hard to see Williams and Leuluai committing to Samoa, especially as the Kiwis have a good chance of defending the title they won in 2008, but Leuluai's indecisive stance will cause some anxiety for coach Stephen Kearney.
"I don't know [what I will do],'' Leuluai said. "We will have to deal with that when it comes.
"I said at the start of the year my big challenge was coming back and adapting to the NRL. I just want to make sure I finish off my job here first. I feel like I am slowly getting more comfortable here but I want to make sure my performances keep improving.''
He was excellent against the Storm, organising things well, producing a good kicking game and typically solid defence and scoring a crucial first-half try when he cut back and squeezed through five defenders. It wasn't a try he had any right to score - halves shouldn't be able to muscle their way through the middle - but sums up the way he plays the game.
Leuluai was the subject of some criticism at the start of the season but has proved his worth in recent weeks and he's developed an understanding with Johnson. Leuluai provides the structure and solidity to Johnson's flair and flamboyance and it works.
"He's been outstanding for us all season,'' Warriors assistant coach Andrew McFadden said. "I know Shaun is the flashy one but Thomas gives us the guidance around the field. He's really solid defensively and he typified our performance [on Sunday]. He competed in everything and has been one of our best all season.''
Leuluai is more comfortable taking on the Melbourne forward pack than talking about himself but agrees he's starting to feel at home in the Warriors again.
"The way we are playing suits me a lot better,'' said Leuluai, who in 2003 became the youngest person to play for the Warriors. "It took me a while to adapt, to change and get used to things over here. I'm feeling a lot more comfortable.''
Kearney might feel the same way if Leuluai committed to the Kiwis.