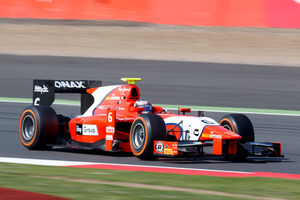 A late charge brought New Zealand teenager Mitch Evans to a close second place finish in the GP2 sprint race at the Hungarian Grand Prix near Budapest overnight.
Evans started alongside Frenchman Nathaniel Berthon on the front row of the grid and drove a good tactical race to preserve his tyres in the sweltering heat. At the finish Evans was just 2.2 seconds behind Berthon.
"Today we really deserved this result. I was really hoping for the win, but Nat was just too quick. Our pace was very equal,'' said Evans. "We pulled away a lot from the rest of the field and I was trying to manage my tyres and save them and so I could have a go at the end.
"I was hoping his tyres would drop off, but they did not drop enough and when I was catching him, I was using my rear tyres as well. At the end I had nothing left.''
Following three third-place podium finishes earlier in the year, it was the best result yet for the 19-year-old Aucklander in his debut season in GP2.
It restores Evans into 10th place in the GP2 standings after seven of the 11 rounds.
"It's been a long time coming since my last one because we have had a really good pace at Silverstone and Germany but a lot of things have stopped us from getting those results. The team have done a really good job since our last podium in Monaco but things have not gone our way.''
"I was hoping to get past him at the start of the race but he was pushing and I was holding back and kept the gap. I was hoping those laps were going to hurt him at the end of the race but, although he was dropping off a lot, it was not enough.
"Had I pushed more my tyres would have gone more quickly. It's a very hard balance because when the person in front of you is pushing, it's very hard to judge and anticipate what could happen at the end of the race.''
"Chris Gorne (Evans's Arden International race engineer) was telling me on the radio to back out more, but I could not let the gap get too big either. I was just trying to manage it and save the tyres at the same time.
His fourth podium finish means Evans has finished in a points scoring position at 50 per cent of the 14 GP2 races to date this season. The series now has a one month summer break before the season resumes at the Spa Francorchamp circuit in Belgium on August 24-25.
"We will keep the same thing we've been doing and just try and improve anyway that we can. We're not far away. We're very competitive in the race especially. I made a mistake in qualifying this weekend and that's a mistake that I will probably never do again. We will keep pushing on and try and improve as always. We need to be at the right place at the right time and hopefully have another good result in Spa.
Berthon claimed his maiden GP2 victory in fine style, leading his rivals from pole to flag with a mature drive to win from Evans and Fabio Leimer.
- APNZ