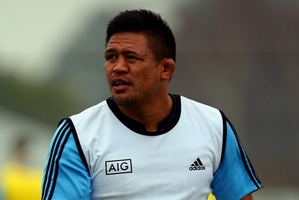 Having won 104 test caps and becoming one of the most respected All Blacks in history, Keven Mealamu has no doubts he made the right decision to complete his schooling at South Auckland's Aorere College.
He had two offers to go elsewhere - he'd rather not say where - but declined to shift because he felt the reasons to stay were more compelling.
"There were a couple of other schools interested in me and my brother [Luke]," he says, "but we were comfortable. We had good friends and they were a big influence and we also really liked the challenge of trying to get Aorere into the 1A competition."
Nearly 20 years since he left Aorere, Mealamu remains an inspirational figure - his story used to persuade other promising young players to stay put.
Mealamu was indeed successful in helping Aorere gain promotion to the elite competition in 1996 and his performances were strong enough for him to be selected in the New Zealand Secondary Schools team as a Year 12 student.
Aorere were able to stay in the top flight for four years, even making the semifinals in 1999 when they had just 18 boys in their squad. Geoff Moon was coach then and he says a big reason for that was the values and work ethic instilled by Mealamu.
"We had a little bit of pride in the school," recalls Mealamu. "It was just down the road from where we lived and it was great to see the impact it had on our community when we started to do well. When we started to see more people on the touchline that fostered that pride. I guess you can't be sure because you will never know what would have happened if you had gone to school somewhere else, but there is nothing I would change about my education. I look to where I am now and I know that my schooling is a big part of who I am and Aorere was a success for me."