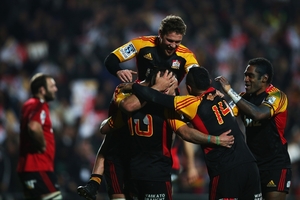 In a match in which the Chiefs looked like they would suffer the death of a thousand cuts - or at least defeat by several Dan Carter penalties - Lelia Masaga scored the try in the 20-19 win which suggested his team could not only stop the bleeding but work themselves up to a knockout blow.
It came about 10 minutes after halftime and shortly after an Aaron Cruden penalty had closed the gap on the Crusaders to 9-6. With the Chiefs hot on attack but the strike not yet organised, Masaga received the ball from halfback Tawera Kerr-Barlow with few options.
"I think it was just a play that went wrong," Masaga said afterwards of the try which gave the Chiefs the lead for the first time. "Tawera hit me and there was no point in going wide because there was nobody out there so I thought I would go back in. When I got the ball I felt deja vu because I did it against Counties [in the ITM Cup]. I only saw one person, [George] Whitelock, and he is a bit chubby so I thought I would go over with a bit of pace. It worked. I think I had white-line fever and managed to get over the line."
Masaga revealed coaches Dave Rennie and co had drilled into their troops at halftime the importance of attacking the Crusaders.
"They were saying, 'Just get the ball in hand and run hard, aggressive, and try to flick the game around'. The opportunity came to me and funnily enough I saw the Red Sea part and it was my time to score the try."
For Masaga, the score had extra significance because he is leaving at the end of the season for Japanese club Honda. Among those also leaving are centre Richard Kahui and skipper Craig Clarke.
Masaga's try, which he celebrated by yelling "Time to go home", was a testament to the instinctiveness and flair of this Chiefs team. Cruden's intercept try moments after Masaga's was another example of that.
Masaga was icing an ankle afterwards, one of several Chiefs players to suffer from aches and pains from the bruising encounter.
It's unlikely to stop him from turning out against the Brumbies in the final at Waikato Stadium on Saturday night, though.
"We're all about B2B, which is back-to-back trophies," he said.
- APNZ