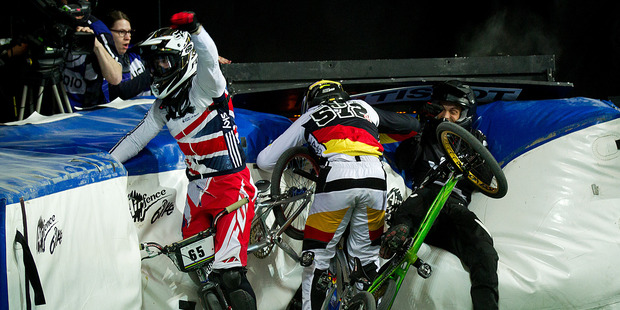 With the top dogs missing from the start line, the secret squirrel that is Liam Phillips snatched the BMX world championship to continue a golden period for British cycling.
Chris Froome last week followed Bradley Wiggins in winning the Tour De France, while the British Olympic team raked in the gold in London courtesy of a specialised, often innovative, approach.
And Phillips credited doing things the British way as a large part of his success, an approach which saw him described as a "secret squirrel" by silver medallist Marc Willers.
"I'm not really interested in the politics of BMX and what everybody else is doing," Phillips said. "It's pretty much the way we roll within British cycling - we do things our way. I think our approach to things is slightly different than other people, so if they call that secret squirrel of whatever, then so be it."
The approach worked wonders at Auckland's Vector Arena for Phillips, who took advantage of the misfortune of defending champion Sam Willoughby, among others, to claim his maiden world title.
"I don't look at anybody else in the race," he said. "I was aware, obviously, that [time trial winner] Connor [Fields] and Sam had crashed, but I couldn't tell you when the other big-hitters went out.
"To win the rainbow jersey is something I've dreamed about for such a long time. I've done every world championships since '96 - I missed 2011 - and I've never won. So it feels amazing to finally get the win."
Women's champion Caroline Buchanan wasn't allowed such a singular focus. The Australian couldn't even allow herself too much of a celebration, not with world championships in her other discipline - mountain biking - on the horizon.
Buchanan is facing a busy year, with the downhill world championships in South Africa next month followed by the four-cross world championships in Austria a month later, but the hectic schedule got off to an ideal start.
"Two more world titles in the next two months, and if I can get on the podium at all three of them, it's definitely going to be a first," she said.
After being bested by Mariana Pajon at last year's Olympics, Buchanan was delighted to return the favour, edging the Columbian at the crucial opening corner courtesy of a tactic she termed "releasing the mongrel".
"Mariana was next to me and basically I got out and knew that I cut her off," Buchanan said. "She was one of my main competitors and she was the one in London that got out and cut me off, so the tables were turned around this year.
"Once I got out I knew it was my race and my time to shine."
Top results
Elite men
Liam Phillips (GBR) 1
Marc Willers (NZL) 2
Luis Brethauer (GER) 3
Also: Daniel Franks (NZL), Trent Jones (NZL) eliminated in semifinals; Kurt Pickard (NZL), Trent Woodcock (NZL) eliminated in quarter-finals; Matthew Cameron (NZL) eliminated in first round.
Elite women
Caroline Buchanan (AUS) 1
Lauren Reynolds (AUS) 2
Manon Valentino (FRA) 3
Also: Victoria Hill (NZL) eliminated in quarter-finals; Sarah Walker (NZL) did not start.