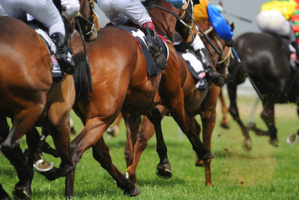 Terror To Love took the supreme honour but Stig won the hearts at the national harness awards night.
The dual New Zealand Cup winner captured the Horse of the Year title in Christchurch on Saturday, outpointing champion filly Adore Me 16 votes to 12 after both had won their age group divisions.
For Terror To Love that was no mean feat in itself downing superstar pacer Christen Me as they were lumped together in the new 4-year-old and older division.
While Terror To Love had a couple of key defeats, he still won the NZ Cup, Flying Stakes, Jewels and finished second in an Auckland Cup and Miracle Mile.
Adore Me couldn't join Carabella as a filly who won Horse of the Year, but her co-owner Charles Roberts spent plenty of time on stage as he won separate awards for owner and breeder of the year and his Woodlands Stud provided stallion of the year Bettors Delight, while he owns broodmare of the year Scuse Me.
However, it was another veteran who was the emotional winner of the night as Stig won both age trotter and then trotter of the year.
The fact he was able to secure 17 votes for trotter of the year over champion I Can Doosit (11) and Vulcan (two), who won five group ones in a month, was remarkable.
But Stig's story is far more incredible, having spent three years in retirement after injury robbed him of the best years of his career.
Sky Major won a close contest for juvenile pacer of the year and heads to Victoria this week to contest a repechage of the Breeders Crown along with one of those he beat for the award, stablemate Maxim.
Ohoka Punter defeated Border Control, who beat him in the New Zealand Derby and the Jewels. But there could be no arguing with the award (17-15) as Ohoka Punter's Northern Derby win was the performance of the season.
Royal Aspirations outpointed Aussie star Blitzthemcalder by 15-12 for 3-year-old trotter, One Over Da Moon won baby trotter, while the other female awards were straightforward, going to Venus Serena, Daenerys Targaryen, Habibti, Escapee and Bettor Cover Lover.
Canterbury trainer Jack Carmichael was honoured for his lifelong contribution to harness racing.