The Aussies hate coming to Mt Smart Stadium and the results show that, writes Michael Burgess.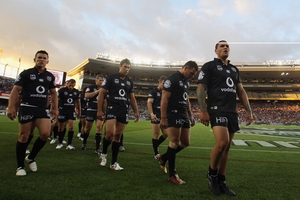 With a move to Eden Park now firmly on the Warriors' horizon, the challenge of winning a premiership title may become even more difficult.
Australian NRL teams have appeared to enjoy playing at the central Auckland venue while the Warriors have struggled to find their best form there.
Due to the demands of travelling across the Tasman every second week, much of the Warriors' success has been predicated on strong form at home - in total, more than two-thirds (67 per cent) of Warrior victories have come at Mt Smart.
Quite simply, Mt Smart has become a fortress and will be sorely missed in that regard. For all their ups and downs over the years, the Warriors have been consistently hard to beat in their beloved industrial corner of Penrose.
Since 1995, the Warriors have won 64 per cent of their matches at Mt Smart - a not inconsiderable feat remembering the many seasons of struggle, where the team sat closer to the bottom than the top of the table. In contrast, they have won only 29 per cent of their games away from the stadium.
This season has followed the pattern: six games at Mt Smart, five wins; nine games away from Mt Smart, including matches at Eden Park and Wellington's Westpac Stadium, just three wins.
Mt Smart has become a legitimate 'house of pain'.
The players gain confidence from playing there and feed off the crowd, sitting just metres from the action - and Australian teams don't enjoy the visit.
Eden Park will be a different story. Forget the fact that no league team has won there in recent years - the Warriors and Kiwis have played there six times since 2010 for six losses - though that is a mildly disturbing statistic. The fans are miles from the action and it's much more difficult to create an atmosphere of intimidation and hostility.
Parramatta (2011), Manly (2012) and the Roosters' (2013) players all reported that they loved playing there, apart from the fact they won.
Even during the Blues games this year the ground was hardly a seething cauldron; its regrettable design makes that almost impossible. Only when close to capacity is there a semblance of atmosphere and that is unlikely to happen.
Crowd figures may get a jolt from the current average of 13,000 at Mt Smart but over a season it is hard to see them regularly above 20-25,000, which leaves swathes of empty seats. The team will also be unable to train on Eden Park, meaning game day will be the only time on the hallowed turf.
Home turf is extra critical for the Warriors, given their demanding travel schedule. The Blues count on five away games just a bus ride (or short flight) away.
The Sydney NRL clubs also have it relatively easy - the Rabbitohs and Roosters played outside Sydney just three times in the first 16 rounds this season, whereas the Warriors, like the Phoenix and Breakers, have to cross the Tasman every other week.
"I have to say I completely underestimated the travel factor," says Warriors coach Matt Elliott.
"It's a longer trip than people think - even our shortest trip is probably seven hours door-to-door - and then there is the two-hour time difference.
"There is probably no comparison with what the Sydney clubs face."
There is also the history.
Many want to disregard this fact but for decades, in this country, league players and fans were second-class citizens.
Times are changing, slowly - some schools are even allowing league to be played under their crest and on their fields - but it will take time.
From all accounts the Warriors don't have much of a choice.
The council is unwilling to maintain and improve Mt Smart while it only has one tenant and are also desperate to increase usage of Eden Park.
Of course a rectangular waterfront stadium would have been the answer, but that was denied by the self-interest of an influential few.
Maybe one could still be built (Arise Sir Owen ... naming rights? ... legacy?) but for now it has to be hoped that Eden Park will eventually develop into a place of bad results and bitter memories for visiting NRL teams.
But in the first few years there it may be a struggle.
Behind every good campaign is a great home record
Every successful Warriors campaign has been characterised by a formidable record at Mt Smart. This was most apparent in the grand final years of 2002 and 2011, when the club won 85 and 73 per cent respectively at its home stadium.
In good times ... 2001
The club's first charge to the finals was anchored by seven wins at home, which represented 58 per cent of their total victories in the season. They included an historic first win over the Broncos (13-12) and victories over the Eels, Bulldogs and Sharks who finished first, second and fourth in the minor premiership respectively.
2002
In his second season, Daniel Anderson's team was near invincible at Mt Smart, losing only two of 13 matches there that season. Among the victories was a 68-10 thrashing of the Northern Eagles and a 36-20 win over the Raiders in the club's first playoff match.
2003
The team won nine of their 12 games at Mt Smart (75 per cent), including a tough win over the Bulldogs.
2007
Of their 13 wins that season, eight of them came at Mt Smart including big wins over Penrith (54-14), St George (44-16) and eventual grand finalists Manly (36-14).
2008
The Warriors won 10 of 13 games at their Auckland fortress, including one of their finest in recent memory, a 30-13 playoff demolition of a highly fancied Roosters outfit and a memorable 8-6 win over premiers Melbourne in horizontal rain.
2011
In Ivan Cleary's final season, the team lost just three matches (of 11) at Mt Smart. Among the victories was a 24-12 win over 2010 grand finalists, the Roosters.
And in bad ...
In some of the worst Warriors' seasons the only solace was found on home soil. In 1997 the team won just 10 games, with nine of those victories coming at Mt Smart. There were similar stories in 1998 (seven of the total nine wins came at Mt Smart), 2000 (six of eight), 2004 (four of six) and 2009 (five of seven).