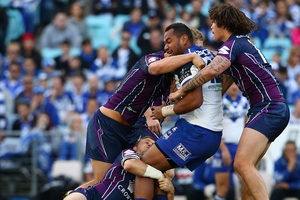 If you want to see what lies behind the Melbourne Storm's culture of success, ask the players about their notorious pre-season 'boot camp'.
It's not pretty. Other teams talk about having a tough pre-season; the Storm live it.
Their camps are run by the Special Operations Group of the Victorian Police, many of whom have a background in counter-terrorism. The players are put through a physical and mental grind; they are deprived of sleep and have their food rationed while completing all sorts of strenuous tasks.
"It is without doubt one of the toughest things I have ever had to do," says Warriors centre and former Storm player Dane Nielsen, who estimates he had only one or two hours of sleep per night. "It's the mental aspect more than anything. I remember sitting on the bus afterwards feeling quite amazed. I couldn't believe I could push myself to do some things under enormous pressure with no sleep, not much food - you are just running on empty but you can find that something within yourself that makes you keep going."
"It was hell - the hardest thing I have ever done," laughs Melbourne and Kiwis prop Jesse Bromwich. "We were walking for hours and hours. When you get to lie down and go to sleep they wake you up again after a couple of hours. But it does bond you together, it helps to make you mentally strong."
In his new book Home Truths, Bellamy says that patterns are often established at the camp that play out over the season. "What happens in that camp and how certain players react to tough situations under fatigue and distress, usually applies to what happens on the field."
The Storm set standards that few match. Bromwich talks of Billy Slater "training exactly like he plays - flat out", and Cooper Cronk, who works "incredibly hard".
From their inception the Storm have been successful. Critics say that is because the NRL couldn't afford for them to fail and they were given advantages that other expansion clubs didn't receive. Nevertheless, their achievements from a league outpost have been amazing.
They won the grand final in their second season (1999) and have reached five more grand finals since then (winning three, though the victories in 2007 and 2009 were subsequently withdrawn for their multi-million dollar salary cap breach).
Under Bellamy, the Storm have also reached the playoffs in nine of the last 10 seasons.
In contrast, the Warriors have been anything but consistent, but never fail to trouble the Storm. Across the NRL, only the Bulldogs have a better record against the Melbourne side and many of the victories have been crucial. Think back to 2008, when the Warriors made history, becoming the first eighth-placed team to beat the minor premiers. Michael Witt's last-minute try, inspired by Jerome Ropati's break consigned the Storm to a tougher finals road and they never recovered, eventually losing 0-40 to Manly in the grand final.
Or two years ago, when the Warriors won the preliminary final in Melbourne to deny the Storm a shot at the grand final. Even back in 2000, when the Warriors only won eight games all season, they still managed to topple the Storm, who were defending premiers.
Storm vs Warriors
Games: 32
Storm Won: 17
Lost: 13
Drawn: 2
Winning percentage: 53.1%
The Storm have a winning percentage of 81.8% against the Rabbitohs, 64.7% versus the Broncos and 62.5% against the Tigers. Since Craig Bellamy was appointed coach at the start of the 2003 season, they have a 68% overall winning percentage.