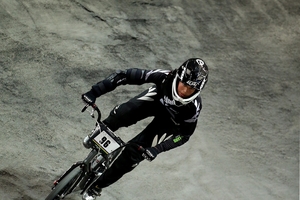 Sarah Walker surprised herself with her time trial performance at the BMX World Championships but thinks she will need "something miraculous" to make the podium in today's feature race.
Walker qualified second-fastest for yesterday's time trial final at Auckland's Vector Arena before finishing sixth overall, an admirable result considering she is still struggling with a broken arm.
The time trial, while carrying world championship status, acts as little more than a glorified warm-up for today's main event, but it was a warm-up Walker desperately needed.
The Olympic silver medallist confirmed her participation only earlier this week and she is still hampered by the fracture she sustained five weeks ago.
Walker admitted she still felt some pain in her right arm, protected by a brace while riding, and said her form at the all-important starting gate required vast improvement if she is to have any chance of replicating her 2009 world championship win.
"I would like to think [the time trial] would bode well [for today's feature race]," she said. "But doing gates in training, unless something miraculous happens with my gates it'll be interesting."
With the course confined to just 300m inside Vector Arena, the opening straight - always pivotal in BMX - carries even more importance than usual. Riders who reach the first corner in front will be confident of remaining there, leaving Walker in circumspect mood.
"I'll race smart - I always race smart and think ahead and try to stay out of trouble," she said. "I may have the track speed but I need to be able to get in front to start with."
She clearly demonstrated that track speed yesterday. Walker was roared on by the home crowd in her qualifying run before the form of other riders in the final saw her slip to sixth in the event won by Columbian Mariana Pajon.
If past history is anything to go by, Walker can expect a similar placing today, though she was holding out hope of climbing the standings in front of her home fans.
"The difference between my time trial result and my racing result over the last four years is less than one placing difference, averaged out," Walker said. "I may not ever get the opportunity to race at home again so I'm just enjoying it.
"Hopefully my arm holds up in one piece and I make it through the day."
Fellow Kiwi Victoria Hill finished two spots behind Walker in eighth, while Trent Woodcock was the only New Zealand man to reach the final after qualifying 16th. Woodcock managed to move up one place in the medal race as American Connor Fields defended the title he won last year in Birmingham.