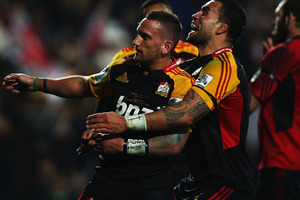 CHIEFS 20
CRUSADERS 19
There's no doubt about it now, the Chiefs are New Zealand's new legacy franchise. The standard-setters, the pillars, the beacons the men whose courage, character and resolve are beyond doubt.
They had to dig to the deepest point of their emotional and physical well to hold on tonight. The kitchen sink came at them all right.
Keeping out Israel Dagg on his own was a full time job for half the side. Then there was closing down Dan Carter - making sure he couldn't land the winning drop goal as the Crusaders kept siege in Chiefs' territory throughout the last 10 minutes.
It was a near impossible task but the Chiefs seem to excel in those. Might there now be a generation of New Zealanders who grow up believing playoff football is an 80-minute slog and at the end the Chiefs win?
Might there now be an official changing of the guard: a nationwide realisation that the Crusaders, as gallant as they were in defeat, represent the past - the Chiefs the future?
Winning the title last year wasn't enough for the Chiefs to persuade everyone, probably not even a small minority, that they can build a dynasty. The Sonny Bill factor was too big to ignore: they were one team with him, probably a different team without him.
Not so. Or maybe they are a different team - but not a weakened team. Not any less of a team, certainly.
Their lack of All Black stars is unusual: mind-sets are wedded to this notion that having the best players is the best and indeed only route to having the best team.
That idea has surely been obliterated. The Chiefs didn't win last night because of any particular individual. They won because they have a squad of men who believed in the game-plan. They won because they defended their line with incredible ferocity.
They won because they stayed organised and composed through a first half when other teams may have come apart at the seams. They won because they were alert to half chances, flooded the ball carrier with support options and worked collectively in everything they did.
They won because they refused to believe in any other outcome. Standing up to the Crusaders takes depth of character and enormous focus. They can't be repelled by anything other than solid endeavour. Even that isn't enough.
The Chiefs were in danger of letting the occasion pass them by in the first half.
The lineout was a fairly shambolic business all round. The Crusaders had the aerial superiority - their big men had better timing, better rhythm between jumper and thrower.
But there was limited quality to their possession. There was a a lot of paws flapping away and Andy Ellis spent an unfortunate amount of time mopping things up: chasing loose balls that suited neither side.
The highly contested but inconclusive battle at the lineout was replicated across the field. The scrum was much like that, too. The occasional big shove coming out of the blue - a few rock steady stalemates and the balance being made up if unfathomable penalties and free-kicks.
The breakdown ... ditto. It was way too erratic for there any sense of the intensity to come through. There was urgency aplenty - little accuracy, though: few concerted periods of control from either side.
It felt like both sets of players had come into the game living and breathing every cliché going about playoff football: one mistake deciding it and all that nonsense. It was so cagey, so restricted so unworthy of either team. Both of them played like they wanted to avoid defeat rather than striving for victory. And then it all changed in that second period.
The Chiefs decided they wanted to win it. They wanted the occasion to be decided by their effort and brilliance.
Lelia Masaga got them going when he fired through a phalanx of bodies to score the first try and then Aaron Cruden managed to pull off a finger-tip interception and that was them just about out of sight.
Dagg's solo try enabled the Crusaders to claw their way back to within a point and so nearly get the job done - Carter's snap drop goal flying just -wide. But nearly isn't good enough. The Chiefs used to know that better than anyone.
Chiefs 20 (L. Masaga, A. Cruden tries; A. Cruden 2 con2, 2 pens)
Crusaders 19 (I. Dagg tries; D. Carter con, 4 pens)