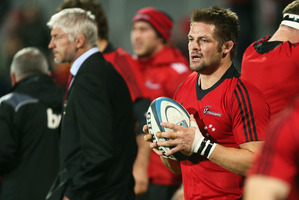 As a qualified pilot, Richie McCaw knows an ugly landing when he sees one. Presumably, then, in time, he, the Crusaders and the New Zealand Rugby Union will conclude that his return after a seven-month sabbatical has been bumpy and needlessly stressful.
Everyone wanted him back refreshed, fit and excited, which has happened. But the timing has been problematic - not for McCaw, who should be just about ready to battle the Australians in a few weeks, but for Crusaders coach Todd Blackadder and openside Matt Todd.
They have both been put in difficult situations - almost intolerable in the case of Blackadder.
He's handled things with poise, dignity and expertise, but it can't have been easy. Through his eyes, the dilemma has been acute.
The Crusaders are desperate to win. It has been five years since they have won a Super rugby title - a lifetime for them.
Blackadder, a sage and worldly figure, knows his hopes of an employment extension are inextricably linked to success. Reaching another semifinal is terrific, but it may not be enough to keep him in his job.
So how must he have felt when a day after the last round-robin game, the All Blacks skipper, one of the best opensides to ever play, the truly inspirational beating heart of Crusaders rugby in the last decade, makes it through 80 minutes of club football and declares himself ready for selection?
The Crusaders were in must-win territory and the temptation to pick McCaw, from the start not just from the bench, must have been extreme.
Undercooked he may have been, but this is McCaw we are talking about - a man who operates to a different set of standards to everyone else and, if he had been asked, would probably have made it through 80 minutes against the Reds last week.
It would have been a huge risk to start McCaw last week, but so too could it be argued was it a huge risk to leave him out.
Blackadder has been in an unenviable bind these past weeks and yet has almost breezed through it.
His ability to negotiate the best path has been impressive. He's somehow found the right balance of staying loyal to the hard-working and frankly excellent Todd while edging McCaw back into the frame. This has enabled the All Blacks skipper to wield his incredible influence without it becoming too obviously all about him.
After the win against the Reds - and McCaw's 15 minutes of action - Blackadder immediately made it clear what he was thinking: "He [McCaw] made a contribution when he came on but we probably won't look to make change for the sake of making change."
For Todd, the scenario has been equally tough. He's had the best season of his career to date and has vied with Tanerau Latimer, probably just edged him, to be the best New Zealand No7 in the competition.
He's carried well, made some critical line-breaks, tackled hard, pilfered possession and been up there as one of the most effective forwards in the Crusaders' slow-burning campaign.
No doubt Blackadder has kept him well briefed of his intentions these last few weeks but, still, anyone in his position would have felt an element of concern given the reappearance of the best player in the world.
Might it not have been better for McCaw to have skipped all of the Super 15 or to have come back earlier? Doing the former would have left him trying to ready himself for the test against Australia on the back of nothing but club rugby.
Doing the latter would have cut into his recovery and conditioning, reducing the overall effectiveness of his time off.
All of this would be rendered moot were it not for the fact that Daniel Carter is expected to announce shortly that he will be taking a sabbatical next year.
"He's certainly contemplating a similar-sized break," says NZRU general manager of professional rugby, Neil Sorenson. "In terms of integrating Richie back into the Crusaders specifically ... I wouldn't know how hard or otherwise that has been. That's a question for them.
"In terms of welcoming Richie back to rugby generally, from a commercial perspective, that hasn't been an issue at all. I think, though, the one key point we have learned is the need to give these players space when they do take time off. If Daniel does take time off next year I'm sure every man and his dog will want him in some capacity.
"A lot of people will think him not playing is the perfect time to ask him to do other things [commercial or promotional work]. But the key to these breaks is more around the mental recuperation than it is the physical and it's so important we get these guys away from the same old, same old and let them have their space."
Speculation has already surfaced that Carter may look to play for his Southbridge Club next year as a means to ready himself for his professional return. Striking the right balance between maximising the sabbatical time and returning to the game mid-season, is not going to be easy given the awkward shape of Super rugby, which has to break for the June test window.
Yet if there is one conclusion to be drawn from McCaw's experience it is that having Carter game conditioned by the June test window would be preferable, not so he can necessarily make an All Black return, but so he's ready to be selected for the last few Super 15 round-robin games. That way at least, the pressure won't be so intense on the Crusaders coaching team.