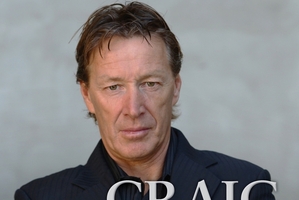 Melbourne Storm coach Craig Bellamy has read a lot of books on management and businesses.
He even read one about management skills in the US Navy.
But it's a book recommended to him by former All Blacks coach Wayne Smith that resonated the most.
It came towards the end of 2010, the year the Storm were found to have severely breached the salary cap over a five-year period and were stripped of their 2007 and 2009 NRL titles, three minor premierships, fined $1.689 million and sentenced to finish last in 2010. Bellamy spent three days with the All Blacks and was having a beer with Smith.
Smith asked him how he was feeling after the year he had just endured. Bellamy said he was numb and tired. Smith told him read Gates of Fire, a book about the Spartan army of the fifth century BC that fought an invading Persian army of two million.
"You won't be feeling sorry for yourself after that," Smith told him.
He didn't. It put a lot of things in perspective and he was even moved to buy copies for members of Melbourne's leadership group.
It's doubtful his players were equally affected but Bellamy is Spartan in many ways. He values structure, defensive systems, loyalty, discipline, excellence and commitment to a unit.
They are qualities he applies in coaching and his favourite saying is, "the harder I work, the luckier I get".
"The thing I live my life by and the thing I want my players to live their footy life by is to have that mentality," he says on the eve of the release of his book, Home Truths. "Hard workers get lucky. I believe it. You might not find that luck as early as you would like but I know if you keep at it you will have some success."
Bellamy has enjoyed more as a league coach than most. He's won 68 per cent of games, including three grand finals, and between 2006 and 2009 the Storm played in four consecutive grand finals. Of course, there are many who claim this was only possible because of their salary cap breach but Bellamy disputes this.
"The premierships have been rubbed out of the record books, but we all know we won grand finals," he wrote. "They cannot take that from us ... we won those games ... we worked bloody hard for it."
It's what he has been doing since being appointed Melbourne coach in 2003. He was a virtual unknown before being appointed and it was only after being in charge for a famous Brisbane victory over the Tigers in 2002 when coach Wayne Bennett was on Origin duty that he was noticed. He got lucky, as he might say. After 10 years as a coach in Canberra and Brisbane without ever receiving a nibble, he had two in a month. He went to Melbourne.
"If that had never happened, I would probably still be an assistant coach in Brisbane," he says.
He turned the Storm into the dominant club of the modern era and turned himself into one of the most wanted coaches in the game. Last year the Warriors chased him but Bellamy said discussions didn't go far because they needed a coach for 2013 and, as much as the Warriors have always been "an attractive proposition", he was still under contract with Melbourne.
"I certainly wasn't going to break a contract," he says.
"I probably won't leave Melbourne now. I thought strongly about it towards the end of last year. Part of it was, did I need a fresh start and did the players need someone new? I have three years to go here and hopefully I last that. I can't see myself coaching beyond that."
Bellamy thinks he has an innate fear of failure, is conservative, lacks patience and is more a realist than an optimist. But there's one trait he is famous for - his temper.
"I get a bit passionate or emotional, whatever you like to call it," he says, "but I'm not really like that away from footy. Sometimes when you see yourself acting like an idiot, it gets a bit embarrassing and I always say I won't happen again. But it does. It's just part of who I am. I don't think I do too much damage to anyone but myself."
His players don't take it too personally when on the end of a spray. Instead, they recognise the passion he has for the game, the club and the players.
"He's very caring and, when he does yell and scream, it comes from a place of care and passion," says Warriors back-rower Todd Lowrie who spent three seasons at Melbourne. "You can see how much it means to him and it can't help but have an effect on you."
Warriors hooker Nathan Friend, who saw Bellamy as a father figure earlier in his career, agrees.
"When I was there, he worked 60 hours a week trying to give the guys an edge," Friend says. "As a player, you try to return the favour and it's probably why he gets the best out of people. League is his life."
• Home Truths (Penguin) by Craig Bellamy with Matt Marshall is out on August 1 (RRP $50)
- APNZ