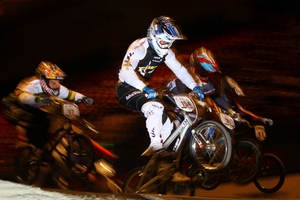 All eyes will be on Sarah Walker at the BMX World Championships at Vector Arena in Auckland this weekend, but the Kiwi men will be equally worth watching.
London Olympians Kurt Pickard and Marc Willers headline the six-strong class which will be hoping to win a world title at home.
Pickard and Willers endured disappointing campaigns in London, crashing out at the quarter-finals and semifinals, respectively.
While Willers marked himself as a favourite for the medals in the early stages of the event, Pickard's Olympics were ended after a spectacular crash left him lucky to avoid broken bones. And, as is often the nature of BMX, Willers soon joined his teammate in the London dirt.
The 27-year-old has suffered through a crash-plagued year on the BMX circuit this season, but he is hoping he can shake off a back complaint and replicate the form which saw him win bronze at the 2011 world champs.
Pickard, 22, comes into the event in far better form, enjoying a breakthrough win at the United States Nationals, and his speed on the opening straight will make him dangerous on the short Vector Arena course.
Although that speed - "holeshot' in BMX terminology - couldn't save his Olympic experience from coming to a painful conclusion, Pickard was certain his time in London made him a better rider.
"The Olympics, I learned a lot from that and it's been invaluable so far - knowing those pressure situations," he said.
Vector Arena will certainly be a pressure-packed environment at today's time trials and tomorrow's feature races, but Pickard was undaunted by the expectations of the home fans.
"The atmosphere seems pretty crazy," he said. "But the game plan is always the same no matter what the track is, and that's just to get in front from the start.
"Of course I want to win. Obviously the best in the world are going to be there, but I'd rather not focus on who's going to be there. I'd rather do my own thing."
Two of the best in the world - and two of the title favourites - both backed Pickard to be leading the Kiwi charge.
Two-time Olympic gold medallist Maris Strombergs called Pickard "the fastest guy in New Zealand", while defending world champion Sam Willoughby was well aware of the 22-year-old's pedigree.
"Kurt's been in great form lately, he just got a win in the US a few weeks back," Willoughby said.
"I've raced against him since we were kids and he's always been good."
Willoughby also had kind words for Willers, a man he said always thrives on pressure, while he nominated national champion Matt Cameron as another home rider who has impressed.
Kiwi contingent
Men: Kurt Pickard, Marc Willers, Matthew Cameron, Daniel Franks, Trent Jones, Trent Woodcock.
Women: Sarah Walker, Victoria Hill.
- APNZ