Matching rich Japan fee a problem but big forward seen as key signing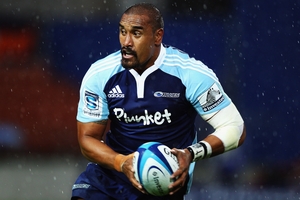 If the financial details can be sorted, Jerome Kaino wants to sign on for the Blues' next campaign as the opening bid in his attempt to make the 2015 Rugby World Cup.
The Blues see the bruising loose forward as a key signing to boost the side's spine alongside the expected new skipper Luke Braid, Steven Luatua, Piri Weepu and a five-eighths such as Beauden Barrett or Benji Marshall.
"He's a Blues man and I would love to have him," coach Sir John Kirwan said of Kaino, "but beyond that we have to wait and see."
The Weekend Herald understands Kaino, who plays in Japan, has undergone a stringent medical for the Blues which gives a strong clue about his intentions.
If he signs, he will have to work out his contract with Toyota late this year before he can return to the Blues.
Negotiating a financial package for Kaino is complicated as the NZRU is wary about stumping up for any significant extras to bring the 48-test veteran home.
However, Kaino's employers want to sort out his future as deadlines approach to settle overseas players for their roster beyond this year.
Kaino played his 48th test in the 2011 World Cup final in a tournament where he was the most consistent player in the All Black squad.
His combination with Kieran Read and captain Richie McCaw had an emphatic influence on the team fortunes.
Kaino turned out in two games for the Blues last year before surgery to repair a shoulder problem and his departure for Japan.
He is on a huge annual deal reported to be about $1 million and even if the Blues can cobble together some third-party financial agreement, they can't go close to Kaino's overseas earnings.
The Blues are working on that, and the knowledge that Kaino wants to defend the Webb Ellis Cup with the All Blacks in Europe in 2015. It's likely he would be used by the Blues at No 8 with Luatua at No 6.
Since Kaino left, the All Blacks have used Adam Thomson, Victor Vito, Liam Messam and Luatua in the No 6 jersey.
Thomson has joined the exodus to Japan, Luatua has just started while Messam and Vito have each played 22 tests without nailing the role.
Meanwhile, the Blues' search for a five-eighths continues.
They have spoken to All Black squad member Barrett, travelled to Sydney to meet Marshall and sent him an offer from which they expect to get a response next week.
"Beauden is a great player and would be a great asset but beyond that I can't say anything to you," Kirwan said. "We've met him and now we just wait."
Barrett is off contract with the Hurricanes and coach Mark Hammett is trying to retain him after Ma'a Nonu asked for a meeting, presumably to scope out the chances of returning next season to the franchise.
At first, Nonu fell out with the Hurricanes when Hammett turned up, then the Blues and now the Highlanders.
If the midfield back reappears in the capital, the question is whether Barrett will see that as a boost or a deterrent to his rugby development.