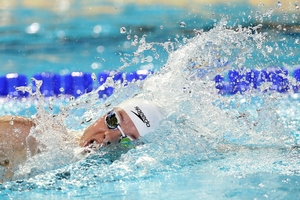 Perhaps it is being a touch melodramatic but when Lauren Boyle steps on the starting blocks for the 400m and 800m freestyle at the world swimming championships in Barcelona, Swimming New Zealand's future funding goes on the pool's black line.
The sport is on a one-year post-Olympic trial with $1.4 million added to the governing body's high-performance budget (a drop from the $1.65 million received each year of the previous Games cycle).
The sport's "targeted" status was removed with the lack of an Olympic medal for what will extend to 20 years by Rio de Janeiro.
High Performance Sport New Zealand had also sought representation in five finals; Boyle made two on her lonesome. The HPSNZ funding blurb vaguely referred to the sport "making a positive change following an all of sport review".
A campaign reprieve was just a few strokes out of reach. Boyle came fourth in the 800m freestyle, 2.4s from bronze.
After years of controversy within SNZ's administrative and competitive ranks, Boyle further helped restore the sport's reputation at December's short-course (25m pool) world championships in Turkey by claiming gold in the 800m freestyle (New Zealand's first since Moss Burmester in the 200m butterfly in 2008) and bronze in the 400m.
Boyle joined an elite club entitled "New Zealand athletes almost single-handedly maintaining the wellbeing of their sport" when she won those medals.
Lisa Carrington and Marina Erakovic are arguably doing the same with canoeing and tennis respectively. There have been past examples - rower Rob Waddell circa 1998-2000; boxer David Tua for most of the 1990s through to his 2000 heavyweight title fight with Lennox Lewis and Danyon Loader at the 1996 Olympics.
Boyle tries to keep it in perspective. "I'm honoured to be thought of in this light. I think I have had good performances over the last few years in spite of challenging situations and that's what has put me in this position. I have maintained a similar mindset and I think that's why I'm still successful.
"I don't take my position for granted and I well know what it takes to get to this level."
At 25, Boyle is believed to be keen to race until at least next year's Glasgow Commonwealth Games. Extending her career to the next Olympics might be a stretch.
As a result, SNZ owes Boyle its support. Sensibly a significant proportion of the $1.4 million appears to have been allocated towards her needs, although SNZ could not retain the services of her former coach Mark Regan.
Other swimmers such as breaststroker Glenn Snyders, backstroker Gareth Kean and freestyler Matt Stanley have shown potential but Boyle has had the lion's share of success at major meets.
Stanley has since been elevated to bronze in the 400m freestyle at the short-course world championships when a fellow competitor failed a drugs test.
In fairness to SNZ, medals are hard to secure at the long-course (50m) world championships.
They are coveted second only to the Olympics. Gold has been beyond reach since the meet's inception in 1973. Loader claimed a silver and two bronze in 1994, Anthony Mosse earned a silver in 1986 and a current team coach, Gary Hurring, took a silver in 1978.
Boyle stands a good chance of making the podium. Given past records, such achievement would be extraordinary by a New Zealander, even in a post-Olympic year.
Boyle's best 800m and 400m freestyle performances both came three weeks ago in France.
She clocked 8 min 23.08 for the 800m - 0.36s outside the personal best she set in the Olympic final. The time ranks her third in the world.
Her four minutes 04.24 for the 400m places her fourth on the 2013 list; it was 0.61s outside her national record, also achieved in London.
To put the performance in context, Boyle threatened Olympic champion Camille Muffat. Muffat, racing at home, edged ahead in the closing laps to win by 0.15s. Boyle was also third in the 200m freestyle.
Add an altitude camp in the vicinity of Spain's Sierra Nevada national park to Boyle's regime and it should make for intriguing viewing. Well, it would, but it is unlikely to be shown live on New Zealand television ...
Boyle says she has benefited from the competitive build-up.
"It was a good chance to race some of the world's top swimmers in my events.
"I think the racing in France has helped me with my state of mind going into the worlds. It has enabled me to trust my preparation.
"The high-altitude training camp also provided a good amount of work. I was glad to have a skilled coach up there in David [new head coach David Lyles].
"He was helpful and made sure we didn't destroy ourselves completely too close to the competition."
Other Kiwis who might be worth livestreaming for strong performances in Olympic events include Snyders in the 100m breaststroke (ranked 10th in 2013), Kean in the 100m backstroke (ranked 13th) and Stanley in the 200m (ranked 19 in 2013) and 400m (ranked 18th) freestyle.