Rider who broke her arm four weeks ago knows that the start will be the hardest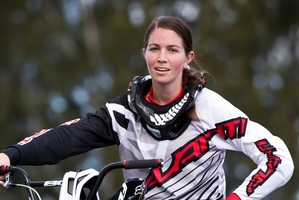 When a BMX race can be decided by the opening corner, flying down the ramp near the front of the field is imperative.
With a fast start the priority, riders require the full use of their limbs to propel their bikes, weighing less than 10kg, out of the starting gate at speed.
Sarah Walker broke one of her limbs - the right arm - four weeks ago. She was still wearing a heavy brace yesterday and only on Wednesday was she completing jumps she had been forced to avoid for the past month.
The start is where she feels the most pain. The fracture she suffered to her radius protests when Walker pulls herself from the top of the ramp, attempting to accrue maximum downward momentum, aching to get to that first corner in front.
The pain will not prevent Walker from riding in the elite women's field at this weekend's world championships at Vector Arena. After all, the face of BMX in this country was not going to let a minor malady prevent her from racing in front of home fans.
But she won't make any promises about her performance - her arm made sure of that. It leaves the 25-year-old just as curious as the crowd.
"I don't actually know [about my prospects]. I wouldn't have a clue," she said. "I know there's a bit of expectation for me to just jump on my bike and win. Anything is possible, but I doubt it's going to happen. All I can do is give the best performance I can."
The lowered expectations are understandable, given Walker's abridged preparation.
"The tricky part for me is going to be out of the start - that's where I seem to have the most pain," she said. "But I don't think I'll have doubt in my mind - all I can do is get the best start I can with what I'm given. If that means I'm out the back, then that's what it is."
Even if it fails to put her on the podium, Walker's participation is a boon for the event. Her personable nature, combined with world championship gold in 2009 and Olympic silver in 2012, makes Walker an ideal ambassador for BMX. She already has a direct influence on a new generation; Jessie Smith, who won the girls' 12-years age group on Wednesday, credited her mentor for her success, saying Walker was her "biggest fan".
Walker's figurehead role played a part in her determination that, after she landed heavily at the United States nationals in Illinois last month, she would make minute improvements every day of her recovery, designed to culminate this weekend.
"I'm feeling a lot more confident than I did even a couple of days ago," she said. "One day is such a large amount of time in the big scheme of things for me.
"Two days is a huge amount of time, so I'm glad I've still got two days until we're actually racing."
Walker said recently she would have probably skipped the event were it not for the lure of a partisan crowd, but competing in her home country provided more than just motivation in her search for full fitness.
"I've been literally counting down every single day to be on my bike. If it had been anywhere else in the world we would have left by now, yet yesterday I was still learning new jumps.
"It would have been really touch and go if it had been overseas, but the fact I had all those extra days leading into this one, I really just knew that I could be ready for it."
Walker has been to Vector Arena once before this weekend - for a Rihanna and Chris Brown concert in 2008 - and she explained her delight at seeing the downtown venue covered in dirt.
"It's so cool to see that it's our sport in there and that people are coming to watch. To have age-group days sell out, I don't think that's happened at world champs before. I'm really looking forward to the weekend and seeing it packed out for the elites."
Walker admitted she rarely noticed the crowd once the race was under way. But, for fans concerned by how her healing arm might impair her ability, there was one all-important place where the crowd could make a difference.
"When you're on the start gate you can really hear the noise."
- APNZ