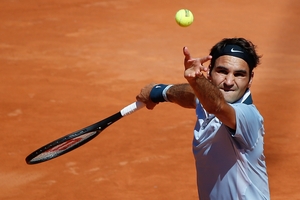 Roger Federer will shun the riches in the Middle East to get himself in the best shape at the Brisbane International for a tilt at a fifth Australian Open crown.
The 17-time Grand Slam champion has chosen to play at Pat Rafter Arena in the first ATP event of 2014, running from December 29 to January 5.
Brisbane International organisers have been chasing Federer since the tournament's inception in 2009 but the Swiss star has preferred to play in Qatar and Abu Dhabi before arriving in Melbourne ahead of the Australian Open. A combination of his desire to be acclimatised earlier for the Open, Brisbane's packed stands and positive player feedback has led to the change in schedule.
"I've heard many great things from the other players. They say it's a very friendly tournament, fan friendly, player friendly," Federer said. "For some time, we've been in contact with Brisbane and I saw how the tournament got stronger and stronger.
"I've always hoped that I could come there ... I'm not just coming [to Australia] for the Australian Open, especially when I commit so early in advance - it's also to win in Brisbane."
Reigning Wimbledon champion and world No 2 Andy Murray has won the past two Brisbane titles before going on to make the Australian Open final. Eight of the world's top-10 women lined up this year as record crowds of more than 90,000 attended all eight days.
With the timing of the Brisbane event, two weeks before the Open, it is taking over from the Sydney International as the preferred Australian lead-in event for many of the leading players.
"It looks that way, doesn't it?" said tournament director Cameron Pearson. "We've had some of the champions of the sport come and Roger now really is the icing on the cake.
"He's arguably the greatest tennis player of all time and, when he makes decisions, they're well planned and Brisbane - and its timing on the calendar leading up to the Australian Open - is where he wants to be."
Federer is attempting to make up ground on world No 1 Novak Djokovic and Murray and will seek his first Melbourne Park success since 2010 in the opening Grand Slam of 2014 from January 13-26. He has slipped to No 5 in the world rankings since suffering a shock second-round loss at Wimbledon in his last Grand Slam start.
- AAP