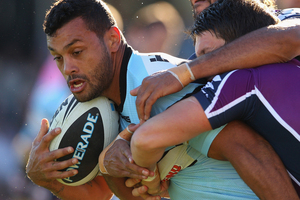 The Warriors will be watching developments in the drugs probe across the Tasman with interest after new Warriors recruit Jayson Bukuya was named as one of eight Cronulla players who had been in negotiations with anti-doping officials over a deal that would have seen him accept a six-month ban.
Sydney's Daily Telegraph said that Bukuya, who is due to join the Warriors in 2014 on a two-year contract, was considering the offer in March before all eight rejected the deal when they discovered Essendon AFL players might escape any suspensions under a separate government agreement.
The Warriors must have known of the potential for Bukuya to be linked with the drugs probe, given Cronulla have been the focus of the Australian Sports Anti-Doping Authority's (Asada) investigation into NRL clubs, and should have gone into contract negotiations with Bukuya with their eyes open.
"We aren't in a position to comment until the enquiry is finished,'' Warriors chief executive Wayne Scurrah said.
"As far as we are concerned, Jayson is a contracted player for next season.''
The news comes in the wake of the NRL announcing last night that 30 players and a number of support staff had been advised they will be required to schedule interviews with Asada as part of the agency's ongoing drugs investigation. Players were given 48 hours to schedule an interview time with interviews commencing from August 1.
"We have not had any contact [from Asada about any of our players] and nor do we expect any,'' Scurrah said.
The Telegraph reported eight players, including Bukuya, NSW captain Paul Gallen, Wade Graham, Nathan Gardner, Nathan Stapleton, Matthew Wright and Stewart Mills, had felt let down by Sharks officials who, they claim, had directed them to use certain supplements.
The players have maintained they were innocent victims in the situation and had been told the products they were given were safe to use and had been cleared by Asada.
They also claimed the club effectively forced them to use the supplements and had indicated they felt they had strong grounds to take action against the club but had been prepared to forgo this and accept a six-month "no significant fault'' ban in return for a number of conditions being met.
These included things like none of them being sacked, being given a one-year contract extension if their deal with the club ended in 2013 and contracts honoured for players with bonus clauses or on match payments.
The final clause was significant for someone like Gallen who, according to the Daily Telegraph, requested payments worth about A$200,000 which included three State of Origin match payments of A$30,000 each, an Anzac Test payment of A$20,000, more than A$100,000 worth of sponsorships, two Toyota vehicles and a Harley Davidson motorcycle.
The players reportedly rejected the government deal once they learned Essendon players could escape any bans under a separate arrangement but Asada issued a statement yesterday distancing themselves from those reports.
"Asada has not offered a zero sanction to any athlete or support person,'' a statement said. "It is Asada's role to adhere to the world anti-doping code at all times. At no time has Asada offered sports advice inconsistent with the world anti-doping code.''
- APNZ